Sales Flyer
Introducing TuffGards® & ColorGards™ Preportioning Bags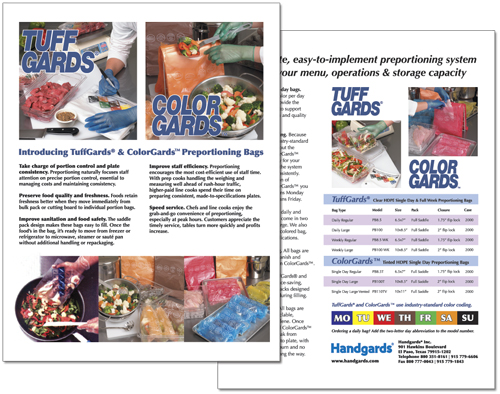 Take charge of portion control and plate consistency. Preportioning naturally focuses staff attention on precise portion control, essential to managing costs and maintaining consistency.
Preserve food quality and freshness. Foods retain freshness better when they move immediately from bulk pack or cutting board to individual portion bags.
Improve sanitation and food safety. The saddle pack design makes these bags easy to fill. Once the food's in the bag, it's ready to move from freezer or refrigerator to microwave, steamer or sauté pan without additional handling or repackaging.
Improve staff efficiency. Preportioning encourages the most cost-efficient use of staff time. With prep cooks handling the weighing and measuring well ahead of rush-hour traffic, higher-paid line cooks spend their time on preparing consistent, made-to-specifications plates.
Speed service. Chefs and line cooks enjoy the grab-and-go convenience of preportioning, especially at peak hours. Customers appreciate the timely service, tables turn more quickly and profits increase.
Back:
A complete, easy-to-implement preportioning system to suit your menu, operations & storage capacity
Single-day and seven-day bags. Using one bag/one color per day coding, daily bags provide the strongest visual cues to support ongoing food rotation and quality control.
Consistent color-coding. Because we use the same industry-standard color coding throughout the TuffGards® and ColorGards™ product lines, it's easy for your employees to master the system quickly and use it consistently. Whatever combination of TuffGards® and ColorGards™ you use, blue always means Monday and green always means Friday.
Convenient sizes. All daily and weekly flip-lock bags come in two sizes— regular and large. We also offer a larger vented, colored bag, perfect for steam applications.
Multi-lingual labeling. All bags are printed in English, Spanish and French, plus Creole on ColorGards™.
Full-saddle racks. TuffGards® and ColorGards™ use space-saving, sanitary wire saddle racks designed to hold bags upright during filling.
HDPE construction. All bags are made of rugged, recyclable, high-density polyethylene. Once filled, TuffGards® and ColorGards™ keep foods at their peak from freezer to microwave to plate, with no danger of freezer burn and no need to repackage along the way.
---
Let's Talk About Your Marketing Communications Goals and Challenges!
If you're looking for help with writing, graphic design and marketing communications and you like the portfolio samples you see here, contact me to schedule a telephone call to explore the possibilities of a collaboration. Of course, there is no cost or obligation for the call.