As a subcontractor for Allen Marketing, Advertising and Communications, I wrote text for a brochure to promote Adele Knits' Tube Wipe product. Adele is based in Winston-Salem, North Carolina.
Sales Brochure
The Perfect Wiper for The Perfect Finish: Adele Knits Tube Wipe
Best-Designed, Hardest-Working, Longest-Lasting, Most Cost-Efficient in the Automotive Industry!
Inside panels:
Adele Knits Tube Wipe—for a flawless finish every time!
The best wiper in the automotive industry
The Innovative Wiper That Makes Traditional Cut Wipers Obsolete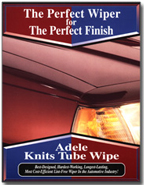 Lint-free fabric and unique design properties produce flawless finishes quickly and easily the first time, every time. If you're still using traditional knife-cut wipers made from spun yarns or non-woven fibers for your sealer and solvent applications, you're missing out on these critically important advantages only Adele Knits Tube Wipes deliver:
The larger usable surface area of its tubular design and its greater durability yield significantly more use per wiper.
Consistently more wipers per pound provide outstanding value, keeping production costs low and profits high.
Tubular Design and Patented Heat-Sealing Process Guarantee Flawless Finishes
To produce a flawless finish, wipers need to be lint-free. Through innovative Tube Wipe design and computer-controlled manufacturing process, Adele Knits sets the standard for lint-free wipers. Here's how:
By making the wiper tube-shaped, Adele eliminates two lintproducing edges.
Adele Knits manufactures Tube Wipes on computer controlled knitting machines custom designed exclusively for Tube Wipes.
Using a patented heat seal process, Adele soft-seals the Tube Wipe as it leaves the knitting machine, significantly reducing edge particles ordinary knife-cutting leaves behind.
Our unique laundering process causes the Tube Wipe's softsealed edges to curl, leaving them unexposed in normal use.
Adele bulk packs its Tube Wipes in polyethylene-lined cartons. After sealing the cartons, Adele shrink-wraps them on pallets to keep particles out during shipment.
Because all processing, from design through packing and shipping, takes place within the same facility, Adele Knits is able to exercise total quality control over its Tube Wipes.
Adele Knits has its own Quality Assurance Laboratory in-house to sample and test its products. This provides continuous monitoring of the product through extensive use of statistical process control techniques. The lab provides wiper performance data to our customers as required.
Like every product Adele Knits manufactures, the Adele Knits Tube Wipe has its own Quality Control Plan. Detailed specifications are agreed on with the customer and specific sampling and testing procedures are rigorously followed in the Quality Assurance Lab and throughout the plant.
Value By Design
Ordinarily, you'd expect to pay more for a product that delivers the superior performance and quality of Adele Knits Tube Wipes. But here's the best news of all:
Adele Knits Tube Wipes cost less to use than other wipers, effectively lowering your manufacturing costs!
That's because the tubular design produces more usable area per wiper allowing each wiper to last longer and work harder than flat wipers. How much longer and harder?
Field tests show it takes 128 cut knitted wipers or 157 non-woven paper wipers to do the job of 100 Adele Knits Tube Wipes.
Adele delivers more wipers per pound than competing products, too!
You get 36% to 66% more Adele Knits Tube Wipes per pound than you get with typical 20″ lint-free wipers used in some automotive plants. Plus, Adele guarantees yield per pound, shipment after shipment.
With the help of a computer-based system to monitor its knitting machines, Adele makes sure the number of wipers per pound, the fabric weight, and wiper size remain consistent. This system removes the guesswork from estimating order quantities and calculating usage. With their strength and durability, Tube Wipes can be washed and reused for other applications, too.
Adele first developed lint-free wipers for the demanding application environment of silicon chip clean rooms. By adapting clean-room wiper technology for the automotive industry, Adele offers you Tube Wipes and other lint-free wipers of quality and value virtually unrivaled in the industry.
The Dry Shake Test Proves the Tube Wipe's Exceptional Quality and Value
As part of its ongoing quality assurance and testing program, Adele Knits has designed and engineered an airborne particle counter apparatus to detect and count particles as small as .005 microns.
Using the particle counter in a dry shake test, Adele compared the Adele Knits Tube Wipe with a Class 10 clean room wiper—the lint-free standard—and a non-woven wiper.
Test results showed the non-woven wiper had 15 more potentially harmful particles than the clean room wipers, while the Tube Wipe had only two more. At one-third the cost of the clean room wiper, the Adele Knits Tube Wipe clearly offers outstanding quality and value for a variety of critical lint-free wiping applications.
"Engineered" Fabric for Fast, Reliable Performance
Another key element in the Tube Wipe's lint-free properties and its superior performance is its construction.
Adele Knits Tube Wipes are knitted using continuous filament fiber yarns. Unlike spun yarns, continuous filament yarn maintains its integrity, effectiveness, and lint-free characteristics throughout extended use.
The Tube Wipe's yarn doesn't generate particles, even when wiping across surface burrs in metal. This minimizes the need for time consuming re-wiping.
The closely-knit Tube Wipe fabric is nonabrasive, yet provides just the right texture for effective cleaning.
The fabric is absorbent so it picks up excess sealer as it wipes, leaving a smooth, clean finish without smearing.
The fabric's elasticity allows the wipe to conform easily to the operator's hand and to the area to be cleaned. Precise detail work becomes quick and easy.
No matter what your application—sealer and solvent wiping, automotive finishing, dry wiping or booth sanitation—you'll find an Adele Knits Tube Wipe product ideally suited to even the most demanding jobs.
Back panel:
About Adele Knits Total Customer Satisfaction
Since its founding in 1970, Adele's progressive management practices, generous investments in equipment and technology, and strict quality control standards and practices have made Adele Knits a leader in the textile industry.
The overall goal at Adele Knits is to achieve Total Customer Satisfaction—known throughout the company simply as TCS—by continually adjusting and aligning the company's capabilities to the customer's precise, ever-changing needs. As an integral part of that process, the company makes sure that employees thoroughly understand each customer's unique needs and expectations. Each product precisely fits the use for which it is intended.
Regardless of job description, Adele Knits employees share responsibilities for problem solving as members of cross-functional TCS project teams. The teams operate on 10- to 13-week cycles, meeting regularly to develop solutions to problems and challenges confronting Adele Knits. Each team sets its own goals, identifies resources, and prepares action plans and written reports of its activities.
Among the recent achievements of TCS teams:
Reduced fabric defects from picks and snags caused during processing and handling from 30 percent to less than five percent
Reduced lead-time for sending our fabric samples from an average of eight days to an average of two days
Improved overall communication and employees' understanding of customer needs by creating an employee newsletter featuring customers
Improved knitting machine efficiency by reducing setup sample approval time from an average of one hour to about 20 minutes
Currently TCS project teams are at work on improving communications about new product development and on developing methods for handling larger knit rolls.
The Adele Knits team approach to problem solving succeeds because the teams always include the employees who are most aware of the problems addressed and those who are in the best position to offer workable solutions. Employees devote considerable effort to and share ownership in the solutions they develop.
As a result of this progressive, customer-oriented approach to management, customers enjoy a level of satisfaction with Adele Knits products and services that is unparalleled in the industry.
The Adele Knits Product Line
In addition to its high-end line of specialized wipers, Adele Knits offers these products:
Polyester and nylon vinyl backing fabrics
Molded door panel vinyl backing fabrics
Car seat vinyl backing fabrics
Dashboard vinyl backing fabrics
Light- and heavy-weight nylon industrial fabrics
Wet suit fabrics
Water sports equipment fabrics
Computer mouse pads
Sports medicine braces
Fabric for compression pants
Clean room wipers
Shoe insoles
Athletic shoe bladders
Orthopedic shoe inserts
Speaker fabrics
---
Let's Talk About Your Marketing Communications Goals and Challenges!
If you're looking for help with writing, graphic design and marketing communications and you like the portfolio samples you see here, contact me to schedule a telephone call to explore the possibilities of a collaboration. Of course, there is no cost or obligation for the call.