I helped Piedmont HomeHealth, based in Winston-Salem, North Carolina, promote their services by designing a logo and writing and designing two brochures—one to promote nursing services and the other to describe the Bath Plus program to assist with the tasks of daily living.
Home Health Care Brochure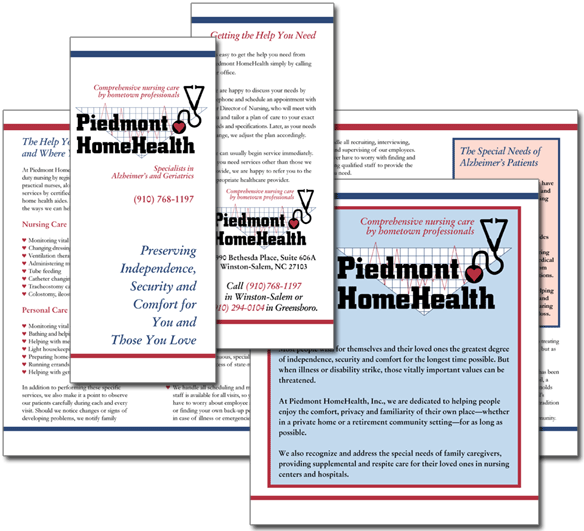 Preserving Independence, Security and Comfort for You and Those You Love
Most people wish for themselves and their loved ones the greatest degree of independence, security and comfort for the longest time possible. But when illness or disability strike, those vitally important values can be threatened.
At Piedmont HomeHealth, Inc., we are dedicated to helping people enjoy the comfort, privacy and familiarity of their own place—whether in a private home or a retirement community setting—for as long as possible.
We also recognize and address the special needs of family caregivers, providing supplemental and respite care for their loved ones in nursing centers and hospitals.
Inside panels:
The Help You Need, When and Where You Need It
At Piedmont HomeHealth, we offer private duty nursing by registered nurses and licensed practical nurses, along with personal care services by certified nursing assistants and home health aides. Here are just some of the ways we can help you—
Nursing Care
Monitoring vital signs
Changing dressings and caring for wounds
Ventilation therapy
Administering medicine
Tube feeding
Catheter changing
Tracheostomy care, suctioning
Colostomy, ileostomy care
Personal Care
Monitoring vital signs
Bathing and helping with personal hygiene
Helping with medicine
Light housekeeping, changing bed linens
Preparing home-cooked meals
Running errands and shopping
Helping with getting around
In addition to performing these specific services, we also make it a point to observe our patients carefully during each and every visit. Should we notice changes or signs of developing problems, we notify family members and the patient's doctor right away. We serve throughout Forsyth, Guilford, Davidson and Davie counties, 24 hours a day, seven days a week. We can help you as much or as little as you need—for a few hours, a few days, a week, a month or indefinitely.
Making Home Care as Carefree as it Can Be
We recognize the emotional and physical demands of caring for an elderly or sick family member. That's why we've developed effective, time-tested policies and state-approved procedures to minimize potential problems and concerns.
All our employees and caregivers are thoroughly screened and drug-tested, so you can rest assured the person in your home, caring for your loved one, is trustworthy and qualified for the job.

Our professionals are bonded and insured, so if problems occur or accidents happen, you are well-protected.

We provide continuous, specialized training well in excess of state-mandated requirements.

We handle all scheduling and make sure staff is available for all visits, so you never have to worry about employee absences or finding your own back-up personnel in case of illness or emergencies.

We handle all recruiting, interviewing, hiring and supervising of our employees. You never have to worry with finding and managing qualified staff to provide the care you need.

Our Director of Nursing spends considerable time in the field supervising our professionals and ensuring we meet the changing or specialized needs of each patient.

We are licensed by the State of North Carolina and adhere to the industry's most rigorous standards to assure that we deliver the highest quality of care.

If problems arise, we stand ready to resolve them to your complete satisfaction.
Your Hometown Professionals
Piedmont HomeHealth, Inc., began in 1970 as City Nursing. In our first quarter-century of service, we have built our growth and success on the quality of our people. Most of our employees have been with our company for years. In fact, the chances are if you've lived here for any length of time, at least one of us has cared for you or someone you love somewhere along the way.
Our hometown connection is strong and deep. We are based in Winston-Salem and continue to be independently owned and operated by people living right here in your community. We understand your needs and expectations, and we are dedicated to treating you not just as clients and patients, but as our friends, neighbors and family.
Since 1995, Piedmont HomeHealth has been owned and managed by Robert Coil, a former senior executive at R.J. Reynolds Tobacco Company. Under Mr. Coil's leadership, we carry on our proud tradition of outstanding quality and caring, compassionate service to our community.
Sidebar:
The Special Needs of Alzheimer's Patients
At Piedmont HomeHealth we have committed considerable time and specialized training to becoming our community's Alzheimer's experts in home care.
Most of our nurses, nursing assistants and home health aides have more than 500 hours of experience and training in caring for the special physical and medical needs of patients suffering from Alzheimer's and related conditions.
We also are experienced in helping family caregivers prepare for and cope with the challenges of caring for a loved one with memory loss.
Back panel:
Getting the Help You Need
It's easy to get the help you need from Piedmont HomeHealth simply by calling our office.
We are happy to discuss your needs by telephone and schedule an appointment with our Director of Nursing, who will meet with you and tailor a plan of care to your exact needs and specifications. Later, as your needs change, we adjust the plan accordingly.
We can usually begin service immediately. If you need services other than those we provide, we are happy to refer you to the appropriate health care provider.
Insert:
Why We Are the Experts in Home Care for Alzheimer's Patients
Our professional staff members average more than 500 hours of on-the-job training and experience in caring for Alzheimer's patients.
Our staff has received special classroom training by the Alzheimer's Association and advanced training by an Alzheimer's consultant.
We understand the symptoms and progression of Alzheimer's disease and the impact of the condition on the patient's family.
We know how to communicate effectively with Alzheimer's patients in both verbal and nonverbal ways.
We know how to work with patients who have memory loss in meaningful and therapeutic activities.
We willingly provide comfort and support to families as well as Alzheimer's patients
Home Care Service Brochure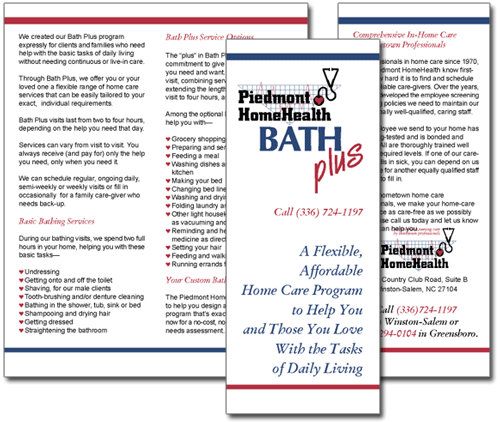 Bath Plus
A Flexible, Affordable Home Care Program to Help You and Those You Love With the Tasks of Daily Living
We created our Bath Plus program expressly for clients and families who need help with the basic tasks of daily living without needing continuous or live-in care.
Through Bath Plus, we offer you or your loved one a flexible range of home care services that can be easily tailored to your exact, individual requirements.
Bath Plus visits last from two to four hours, depending on the help you need that day.
Services can vary from visit to visit. You always receive (and pay for) only the help you need, only when you need it.
We can schedule regular, ongoing daily, semi-weekly or weekly visits or fill in occasionally for a family care-giver who needs back-up.
Basic Bathing Services
During our bathing visits, we spend two full hours in your home, helping you with these basic tasks—
Undressing
Getting onto and off the toilet
Shaving, for our male clients
Tooth-brushing and/or denture cleaning
Bathing in the shower, tub, sink or bed
Shampooing and drying hair
Getting dressed
Straightening the bathroom
Bath Plus Service Options
The "plus" in Bath Plus assures you of our commitment to give you precisely the help you need and want. We customize each visit, combining service options and extending the length of the basic two-hour visit to four hours, as needed.
Among the optional Bath Plus services, we help you with—
Grocery shopping
Preparing and serving a meal
Feeding a meal
Washing dishes and straightening the kitchen
Making your bed
Changing bed linens
Washing and drying laundry
Folding laundry and putting it away
Other light housekeeping chores, such as vacuuming and dusting
Reminding and helping you take your medicine as directed
Setting your hair
Feeding and walking your pet
Running errands for you
Your Custom Bath Plus Plan
The Piedmont HomeHealth team is ready to help you design a custom Bath Plus program that's exactly right for you. Call now for a no-cost, no-obligation professional needs assessment.
Comprehensive In-Home Care by Hometown Professionals
As professionals in home care since 1970, we at Piedmont HomeHealth know first-hand how hard it is to find and schedule skilled, reliable care-givers. Over the years, we have developed the employee screening and hiring policies we need to maintain our exceptionally well-qualified, caring staff.
Any employee we send to your home has been drug-tested and is bonded and insured. All are thoroughly trained well beyond required levels. If one of our care-givers calls in sick, you can depend on us to arrange for another equally qualified staff member to fill in.
As your hometown home care professionals, we make your home-care experience as care-free as we possibly can. Please call us today and let us know how we can help you.
Call (336)724-1197 in Winston-Salem or (336) 294-0104 in Greensboro.
---
Let's Talk About Your Marketing Communications Goals and Challenges!
If you're looking for help with writing, graphic design and marketing communications and you like the portfolio samples you see here, contact me to schedule a telephone call to explore the possibilities of a collaboration. Of course, there is no cost or obligation for the call.