As part of an ongoing relationship with Lexington Memorial Hospital, I wrote a brochure to introduce the hospital's new home care agency, Piedmont Home Care, to the community.
Home Care Agency Brochure
"We make house calls."
"We take care of you at home."
First inside panel: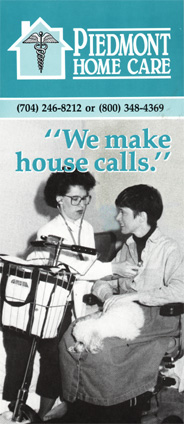 Through Piedmont Home Care, you have access to the health care services you need most, provided in your home when you need them—24 hours a day, seven days a week. We can also help you arrange for durable medical equipment as well as any specialized health care supplies you may need. With Piedmont Home Care—
If you are admitted to a hospital, you may be able to go home sooner.
Some illnesses that would require a hospital stay may be managed successfully at home.
Because you are in your home, you are in complete control of your environment.
Your services are tailored to your individual needs.
When prescribed by a doctor, services may be eligible for payment by Medicare or Medicaid, private insurance, worker's compensation or VA/Champus programs. Of course, you may pay privately for services not covered by insurance.
Inside panels:
"Our health care team is ready to take care of you."
Registered Nurses
Armed with well-stocked bags of equipment and supplies, our registered nurses provide skilled nursing care to patients recovering at home from surgery or suffering from medical conditions such as hypertension, heart and lung problems or diabetes.
On a typical day, they might administer medicines and intravenous drugs, help with special diets, draw blood for analysis or provide catheter care to their patients.
Often, our RNs also provide their patients with helpful information and educational materials related to their medical conditions.
Home Health Aides
Our Home Health Aides bring a helping, healing touch, usually giving a soothing bath and rubdown along with any other personal care prescribed for their patients.
Our aides also help with household chores incidental to care they provide.
Physical Therapists
Piedmont Home Care's Physical Therapists are specially trained and equipped to help patients of all ages who suffer from skeletal and muscular problems to improve their strength and mobility.
Our therapists might develop a program of daily exercise to help a patient learn to walk again after stroke, or after hip or knee surgery. Or they might teach a victim of Parkinson's disease or multiple sclerosis how to function better.
Their patients might include pre-school children suffering from neuromuscular dysfunctions such as cerebral palsy or muscular dystrophy, or an adult seeking to overcome chronic back pain.
Our Physical Therapists also frequently work with their patients' family members, showing them how to care physically for bed-ridden loved ones.
Occupational Therapists
Our Occupational Therapists help disabled patients cope with the many and varied activities essential to daily living, such as bathing, dressing and cooking.
Most often, the therapist suggests structural modifications to the patient's home—especially the kitchen and bathrooms—to adapt the facilities to the patient's abilities.
Our Occupational Therapists also teach patients how to function within their homes as effectively and efficiently as possible.
Speech Therapists
Piedmont Home Care's Speech Therapists use a variety of proven verbal and non-verbal techniques to help their patients communicate effectively. Often, they help patients overcome difficulties with swallowing, too.
Medical Social Workers
Our Medical Social Workers help patients and their families find workable solutions for long-term health care problems, often coordinating services from a number of community agencies to insure comprehensive care.
They also provide counseling to help patients and families deal with the many complex emotional issues related to the patients' medical problems.
Private Duty Aides
Patients' family members may arrange for services from our Private Duty Aides who help with bathing, personal care and household chores, such as cooking and laundry.
Our Private Duty Aides also provide their patients with comforting companionship during their visits, which typically range from an hour or two to a full eight-hour shift.
Personal Care Services Aides
Most often for patients who qualify for Medicaid, Piedmont Home Care offers Personal Care Services by qualified nursing assistants.
During a typical two- to four-hour visit, the aide helps patients with the many activities of independent daily living, such as bathing, personal care, some household chores and cooking.
Back panel:
"Call us if we can help."
If you live in Davidson, Davie, Forsyth or Guilford counties and you or your doctor believe you can benefit from Piedmont Home Care's services, call (704) 246-8212 or (800) 348-4369
Here's what you can expect when you call—
First, an agency representative will meet with you and your family to evaluate your needs and determine if Piedmont Home Care can help.
If we can help, we work with your doctor to tailor a program of skilled health care services just for you.
If you need services besides those we provide, we refer you to the appropriate organizations and help coordinate your care.
Backed by Lexington Memorial Hospital, a full-service community hospital, Piedmont Home Care is a non-profit service organization licensed by the North Carolina Department of Human Resources and certified by Medicare and Medicaid.
---
Let's Talk About Your Marketing Communications Goals and Challenges!
If you're looking for help with writing, graphic design and marketing communications and you like the portfolio samples you see here, contact me to schedule a telephone call to explore the possibilities of a collaboration. Of course, there is no cost or obligation for the call.