I wrote promotional copy and designed an 8-page catalog to promote Jeffersonville, Indiana-based Ebit Information Systems IT consulting and training programs.
Course Catalog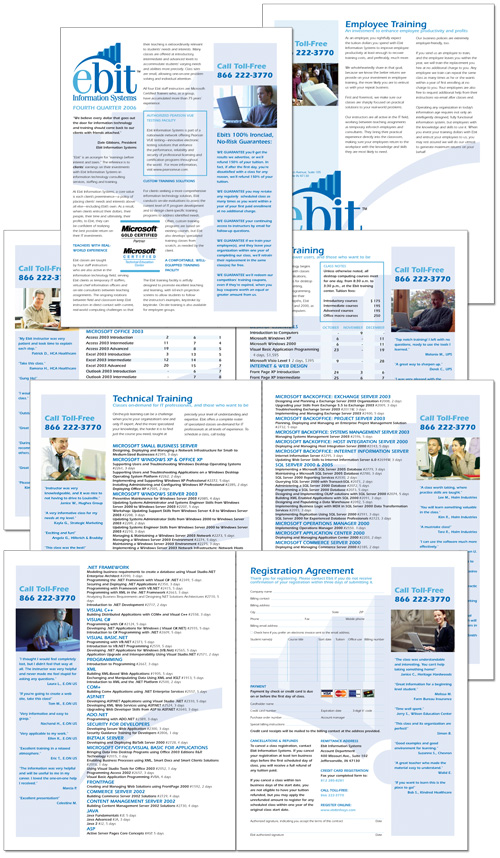 "We believe every dollar that goes out the door for information technology and training should come back to our clients with friends attached."

Dale Gibbons, President
Ebit Information Systems
"Ebit" is an acronym for "earnings before interest and taxes." The reference is to clients' earnings on their investments with Ebit Information Systems in information technology consulting services, staffing and training.
At Ebit Information Systems, a core value is each client's preeminence—a policy of placing clients' needs and interests above all else—including Ebit's own. As a result, when clients entrust their dollars, their people, their time and ultimately, their profits, to Ebit, they can be confident of realizing the best possible return on their IT investments.
TEACHERS WITH REAL-WORLD EXPERIENCE
Ebit classes are taught by four staff instructors who are also active in the information technology field, serving Ebit clients as temporary IT staffers, virtual chief information officers and on-site consultants between teaching assignments. The ongoing rotations between field and classroom keep Ebit instructors in direct contact with current, real-world computing challenges so that their teaching is extraordinarily relevant to students' needs and interests. Many classes are offered at introductory, intermediate and advanced levels to accommodate students' varying needs and abilities more precisely. Class sizes are small, allowing one-on-one problem solving and individual attention.
All four Ebit staff instructors are Microsoft-Certified Trainers who, as a group, have accumulated more than 75 years' experience.
CUSTOM TRAINING SOLUTIONS
For clients seeking a more comprehensive information technology solution, Ebit conducts on-site evaluations to assess the current level of IT program development and to design client-specific training programs to address identified needs. Often, custom training programs are based on existing courses, but Ebit also develops specialized training classes from scratch, as needed by the client.
A COMFORTABLE, WELL-EQUIPPED TRAINING FACILITY
The Ebit training facility is artfully designed to promote excellent teaching and learning, with 60-inch projection screens to allow students to follow the instructor's examples, keystroke by keystroke. On-site training is also available for employee groups.
SIDEBAR
Ebit's 100% Ironclad, No-Risk Guarantees:
WE GUARANTEE you'll get the results we advertise, or we'll refund 150% of your tuition. In fact, if after the first day, you're dissatisfied with a class for any reason, we'll refund 150% of your tuition.
WE GUARANTEE you may re-take any regularly scheduled class as many times as you want within a year of your first paid enrollment at no additional charge.
WE GUARANTEE your continuing access to instructors by email for follow-up questions.
WE GUARANTEE if we train your employee(s), and they leave your organization within one year of completing our class, we'll retrain their replacement in the same class(es) for free.
WE GUARANTEE we'll redeem our competitors' training coupons, even if they're expired, when you buy coupons worth an equal or greater amount from us.
AUTHORIZED PEARSON VUE TESTING FACILITY
Ebit Information Systems is part of a nationwide network offering Pearson VUE testing—innovative electronic testing solutions that enhance the performance, reliability and security of professional licensing and certification programs throughout the world. For more information, visit www.pearsonvue.com.
Desktop Training
Classes for desktop power users, and those who want to be
Mastery of computer technology begins on your desktop–or laptop–with classes in Microsoft's Office suite applications, plus other essential programs for desktop and online publishing, accounting, project management and programming. For those who want to explore their computers to even greater depths, Ebit offers classes in Windows XP and 2000, as well as an introduction to computers.
Technical Training
Classes on-demand for IT professionals, and those who want to be
On-the-job learning can be a challenge when you're your organization's one and only IT expert. And the more specialized your knowledge, the harder it is to find just the course you need, taught at precisely your level of understanding and expertise. Ebit offers a complete roster of specialized classes on-demand for IT professionals at all levels of experience. To schedule a class, call today.
Employee Training
An investment to enhance employee productivity and profits
As an employer, you rightfully expect the tuition dollars you spend with Ebit Information Systems to improve employee productivity at least enough to recover training costs, and preferably, much more.
We wholeheartedly share in that goal, because we know the better returns we provide on your investment in employee training, the more likely you are to entrust us with your repeat business.
First and foremost, we make sure our classes are sharply focused on practical solutions to your real-world problems.
Our instructors are all active in the IT field, working between teaching assignments as temporary info-tech employees and consultants. They bring their practical experience directly into the classroom, making sure your employees return to the workplace with the knowledge and skills they are most likely to need.
Our business policies are extremely employer-friendly, too.
If you send us an employee to train, and the employee leaves you within the year, we will train the replacement you hire at no additional charge to you. Any employee we train can repeat the same class as many times as he or she wants within a year of first enrolling at no charge to you. Your employees are also free to request additional help from their instructions via email after classes end.
Operating any organization in today's information age requires not only an intelligently designed, fully functional information system, but employees with the knowledge and skills to use it. When you invest your training dollars with Ebit and entrust your employees to us, you may rest assured we will do our utmost to generate maximum returns on your behalf.
---
Let's Talk About Your Marketing Communications Goals and Challenges!
If you're looking for help with writing, graphic design and marketing communications and you like the portfolio samples you see here, contact me to schedule a telephone call to explore the possibilities of a collaboration. Of course, there is no cost or obligation for the call.