I wrote and designed two fund-raising brochures for Allen MAC, Inc., client Arbor Acres United Methodist Retirement Community in Winston-Salem, North Carolina.
Financial Aid Brochure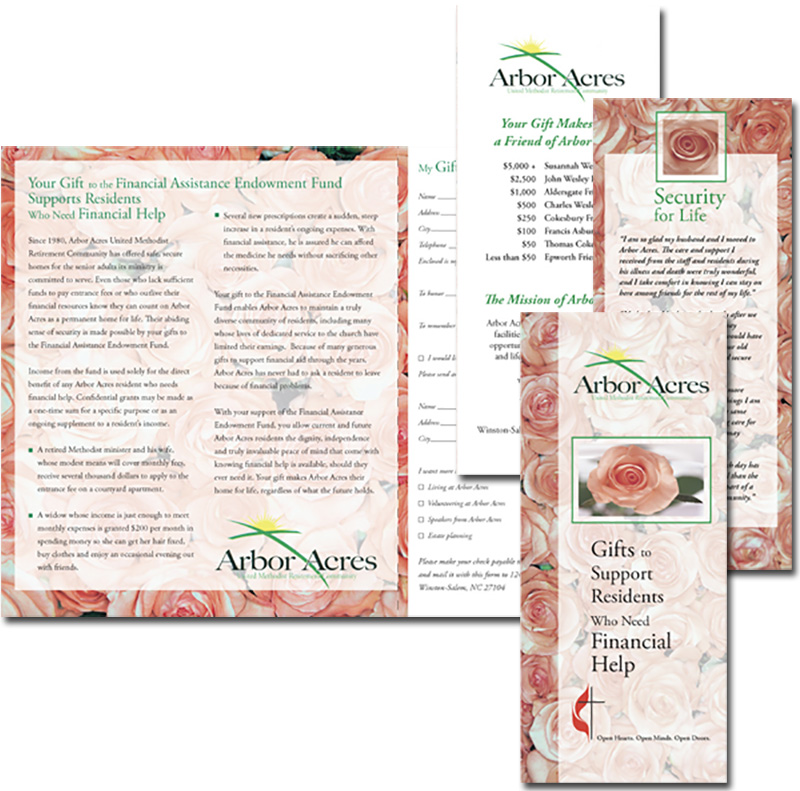 Gifts to Support Residents Who Need Financial Help
First inside panel:
Security for Life
"I am so glad my husband and I moved to Arbor Acres. The care and support I received from the staff and residents during his illness and death were truly wonderful, and I take comfort in knowing I can stay on here among friends for the rest of my life."

"My husband had a stroke shortly after we moved to Arbor Acres and was away recuperating for several weeks. I would have been afraid to be home alone at our old house, but here I felt very safe and secure during his stay in the hospital."

"Living at Arbor Acres means no more worries. Now there are so many things I am free to think about and do. At the same time, I am guaranteed continuing care for life, no matter how my situation may change in the future."

"Since moving to Arbor Acres, each day has been more golden and more joyful than the last. I live in gratitude for being part of a phenomenally loving, caring community."
First two inside panels:
Your Gift to the Financial Assistance Endowment Fund Supports Residents Who Need Financial Help
Since 1980, Arbor Acres United Methodist Retirement Community has offered safe, secure homes for the senior adults its ministry is committed to serve. Even those who lack sufficient funds to pay entrance fees or who outlive their financial resources know they can count on Arbor Acres as a permanent home for life. Their abiding sense of security is made possible by your gifts to the Financial Assistance Endowment Fund.
Income from the fund is used solely for the direct benefit of any Arbor Acres resident who needs financial help. Confidential grants may be made as a one-time sum for a specific purpose or as an ongoing supplement to a resident's income.
A retired Methodist minister and his wife, whose modest means will cover monthly fees, receive several thousand dollars to apply to the entrance fee on a courtyard apartment.
A widow whose income is just enough to meet monthly expenses is granted $200 per month in spending money so she can get her hair fixed, buy clothes and enjoy an occasional evening out with friends.
Several new prescriptions create a sudden, steep increase in a resident's ongoing expenses. With financial assistance, he is assured he can afford the medicine he needs without sacrificing other necessities.
Your gift to the Financial Assistance Endowment Fund enables Arbor Acres to maintain a truly diverse community of residents, including many whose lives of dedicated service to the church have limited their earnings. Because of many generous gifts to support financial aid through the years, Arbor Acres has never had to ask a resident to leave because of financial problems.
With your support of the Financial Assistance Endowment Fund, you allow current and future Arbor Acres residents the dignity, independence and truly invaluable peace of mind that come with knowing financial help is available, should they ever need it. Your gift makes Arbor Acres their home for life, regardless of what the future holds.
Your Gift Makes You a Friend of Arbor Acres
[Gift Clubs]
Mother's Day Mailer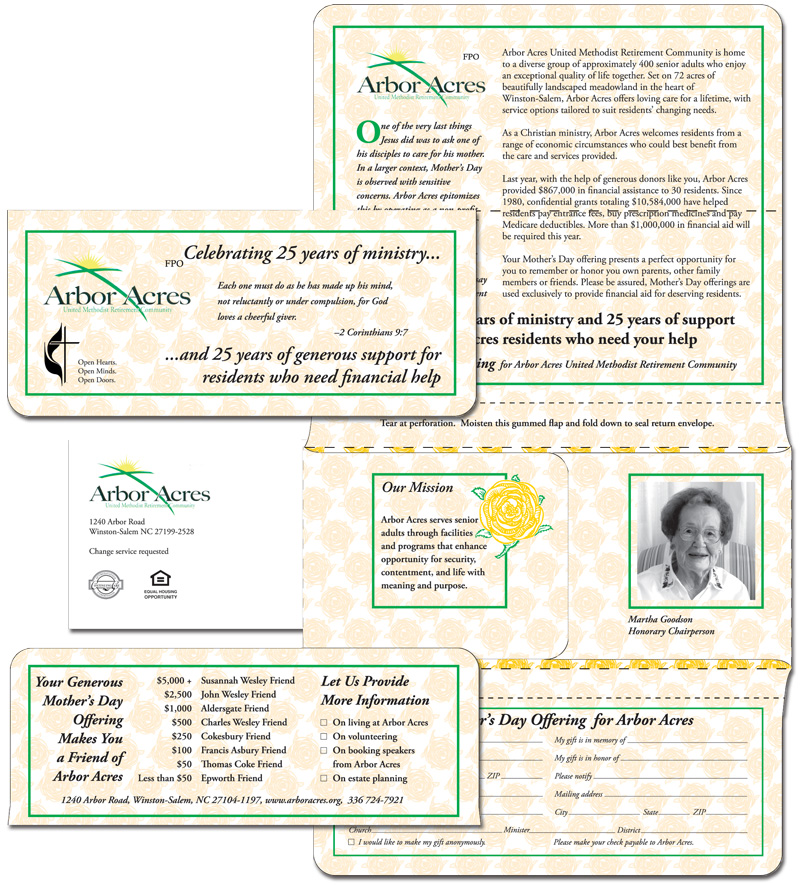 One of the very last things Jesus did was to ask one of his disciples to care for his mother. In a larger context, Mother's Day is observed with sensitive concerns. Arbor Acres epitomizes this by operating as a non-profit facility that affords a lifetime of care needed by most deserving, genuinely appreciative residents.

The Reverend Julian A. Lindsay
Arbor Acres resident
Arbor Acres United Methodist Retirement Community is home to a diverse group of approximately 400 senior adults who enjoy an exceptional quality of life together. Set on 72 acres of beautifully landscaped meadowland in the heart of Winston-Salem, Arbor Acres offers loving care for a lifetime, with service options tailored to suit residents' changing needs.
As a Christian ministry, Arbor Acres welcomes residents from a range of economic circumstances who could best benefit from the care and services provided.
Last year, with the help of generous donors like you, Arbor Acres provided $867,000 in financial assistance to 30 residents. Since 1980, confidential grants totaling $10,584,000 have helped residents pay entrance fees, buy prescription medicines and pay Medicare deductibles. More than $1,000,000 in financial aid will be required this year.
Your Mother's Day offering presents a perfect opportunity for you to remember or honor you own parents, other family members or friends. Please be assured, Mother's Day offerings are used exclusively to provide financial aid for deserving residents.
Celebrating 25 years of ministry and 25 years of support for Arbor Acres residents who need your help
Mother's Day Offering for Arbor Acres Methodist Retirement Community
---
Let's Talk About Your Marketing Communications Goals and Challenges!
If you're looking for help with writing, graphic design and marketing communications and you like the portfolio samples you see here, contact me to schedule a telephone call to explore the possibilities of a collaboration. Of course, there is no cost or obligation for the call.