Among my first assignments as a freelancer was a copy-writing project for The Alderman Company, a photography studio in High Point, North Carolina. The company's graphic designers had already created the layout for the brochure, and my job was to write copy that would engage prospective clients while fitting precisely into the layout—right down to the line-by-line character count for the first panel.
Sales Brochure
SalesVision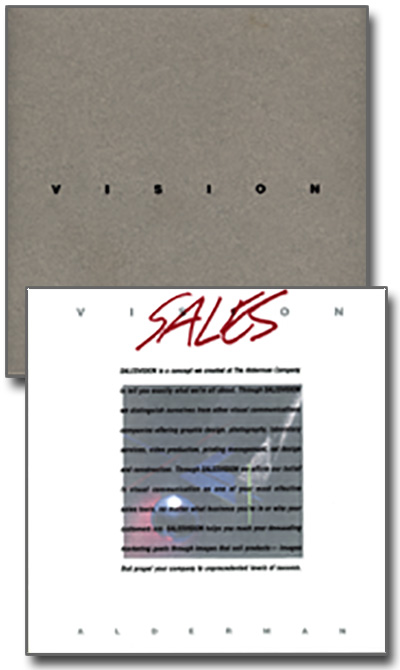 SalesVision is a concept we created at The Alderman Company to tell you exactly what we're all about. Through SalesVision we distinguish ourselves from other visual communications companies offering graphic design, photography, laboratory services, video production, printing management, set design and construction. Through SalesVision we affirm our belief in visual communication as one of your most effective sales tools, no matter what business you're in or who your customers are. SalesVision helps you reach your demanding marketing goals through images that sell products—images that propel your company to unprecedented levels of success.
Page 5:
To understand SalesVision in action, simply consider all the things visual communication can do for you and your organization. Consider a new catalog that doubles your order volume. A full-page, four-color trade ad that brings your latest product to the attention of key decision-makers all over the world. A video program that shows your sales force the three objections most often raised by prospects and teaches them how to overcome those objections and make the sale. An illuminated Duratrans display that delivers maximum merchandising impact at all your retail locations. A collection of color prints that improves your sales force's closing ratio by 100 percent. A portable display that makes yours the most popular booth at the trade show. In short, consider any visual image that gives you and your product the competitive edge in the marketplace. That's what SalesVision—as practiced by The Alderman Company—is all about. Since our founding in 1898, we at The Alderman Company have built our reputation on meeting the highest technical and aesthetic standards on every job, regardless of size or complexity. Shortcuts and compromises aren't among the options we consider. But besides meeting superior quality standards in all we do, we also expect each of the visual images we create to function effectively as a means to an end. In fact, we insist on it. So no matter how appealing one of our pictures is—no matter how innovative one of our graphic designs turns out to be—we don't consider the project a success until the images we produce work to make you more successful. That's SalesVision.
Page 7:
The true challenge of SalesVision comes with knowing precisely how to combine the "raw materials" of the visual medium—elements like sofas, pomegranates and sand—in ways that will make people buy your product. The most important of those raw materials is the product itself. The product dictates which of our art directors, interior designers, fabric and furniture stylists and photographers will make up the creative team for your project. Together, team members search for the best solution to the communications task at hand, seeking ideas and inspiration among more than 500,000 accessories and 549,000 square feet of studio area. Abstract sweeps and over 20,000 square feet of architecturally enhanced existing settings become the stage for many visions. Drawing upon the special skills of our carpenters, the design team builds and rebuilds sets within 50,000 square feet dedicated to custom ideas. Ultimately, the ideal image emerges—the image that conveys your message to your audience competently, convincingly and without compromise. The image that sells.
Page 8:
Through Alderman's SalesVision, you gain access to the resources of the largest studio of its kind in the world. With your account representative acting as liaison, you enjoy the many, considerable advantages of working with a large, established company—and none of the disadvantages. Fully coordinated in-house design and production capabilities help keep projects on schedule. A sophisticated computer system tracks your merchandise from arrival through departure. Alderman's customer service staff assures your complete satisfaction with every aspect of our performance.
Page 9:
SalesVision at The Alderman Company begins with your product and your customers. It ends with your sales success. SalesVision relies on images of superior aesthetic and technical quality—arresting images that catch the eye, capture attention and captivate the imagination of your most profitable customers—images that sell products. Your products. To find out more about how our SalesVision can help you realize your singular visions of success, call us today.
---
Let's Talk About Your Marketing Communications Goals and Challenges!
If you're looking for help with writing, graphic design and marketing communications and you like the portfolio samples you see here, contact me to schedule a telephone call to explore the possibilities of a collaboration. Of course, there is no cost or obligation for the call.