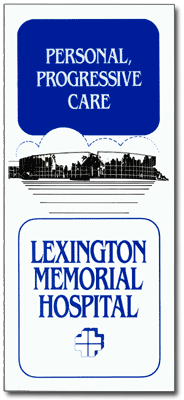 Personal, Progressive Care
Lexington Memorial Hospital
First inside flap:
A Commitment to Personal, Progressive Health Care
The quality of a hospital can be measured in many ways.
The expertise and compassion of its staff, the sophistication of its equipment, the attractiveness of its facilities, the flavor of its food—all contribute to the quality of health and, in turn, the quality of life a community enjoys.
At Lexington Memorial Hospital, we're committed to providing the people of Lexington, Davidson County and the surrounding area the very best in personal, progressive health care.
Our people are skilled and compassionate. Our facilities are modern and well-equipped. Through our affiliations with other hospitals, we further extend the quality, variety and affordability of specialized health care services available locally.
Because of our commitment, our patients and their families benefit from our special blend of advanced medical care combined with good, old-fashioned caring.
Inside panels:
Keeping Quality High and Costs Low
Lexington Memorial Hospital, Inc., is a privately-owned, non-profit corporation managed by area citizens who serve on our Board of Directors. Because we are the community's primary health care resource, we emphasize keeping the quality of our services high while keeping our costs low.
People
Our quality begins with people.
At Lexington Memorial, we actively recruit qualified doctors and employees who thrive on adding a personal touch to their professionalism. Fortunately, many of the same characteristics that make Lexington Memorial a great place to get well make it a great place to work, too. Our employees say we're like one big, happy family, and their job satisfaction shows in the way they treat our patients.
Technology
By investing in the latest, most advanced equipment, we greatly enhance our professional staff's ability to diagnose and treat a variety of illnesses.
For example, we recently purchased sophisticated cardiac monitoring equipment for our Intensive Care Unit to increase the quality and amount of patient information available to our doctors and nurses.
In addition to X-ray units, a nuclear medicine scanner and a mammography unit, our Radiology Department has a state-of-the-art CT (computerized tomography) scanner and a whole-body ultrasound doppler for detecting a broad range of conditions.
Through our association with Duke University Medical Center, our community also has weekly access to a mobile MRI (magnetic resonance imaging) unit. Tumors and other conditions that are undetectable by CT scanning can sometimes be revealed by MRI.
Duke is also working with Lexington Memorial to offer an oncology clinic, allowing area cancer patients to benefit from the expertise of the Duke University Medical Center staff without leaving their home community.
Facilities
Our hospital has 94 beds in all-private rooms, each with its own bath and window. Our contemporary building design has been featured in national and international magazines.
Since May 1987, our Outpatient Surgery and Diagnostic Center has provided patients a comfortable, convenient place for preadmission testing before surgery and outpatient recovery as well as diagnostic and minor surgical procedures.
Our Emergency Department, with its triage area and specialized treatment rooms, is open around-the-clock for patients who need emergency treatment. Just outside, a helicopter pad provides critically ill or injured patients fast access to major trauma centers.
Newly-renovated labor-delivery-recovery rooms in our Obstetrics Department provide a pleasant, home-like setting for parents and their newborns.
Our 10-bed Intensive Care Unit is for patients who need an extra measure of attention.
Many local doctors own or lease offices in the Medical Park on the hospital grounds. Our new medical office building in the park provides convenient office space to accommodate as many as six doctors.
Affiliations
At Lexington Memorial, we continually look for ways to provide our community easy access to the advanced health care resources traditionally available only in larger metropolitan areas.
Working with North Carolina Baptist Hospital and Bowman Gray School of Medicine, we arrange special seminars to keep our medical staff and allied health care professionals current in their areas of expertise. We maintain our own medical library and have access to the library at Bowman Gray.
Lexington Memorial is fully accredited by the Joint Commission on Accreditation of Healthcare Organizations and is an active member of the American Hospital Association and the North Carolina Hospital Association.
We also save money—and lower our costs for supplies and equipment—through the combined purchasing power of two of our affiliate groups—Sunhealth and the Healthcare Alliance of the Carolinas and through cooperative purchasing with North Carolina Baptist Hospital.
Back panel:
Medical Staff Specialties
The doctors on staff at Lexington Memorial Hospital are all board certified or eligible for certification in the following specialized practice areas:
Anesthesiology
Dentistry
Ear, Nose & Throat
Emergency Medicine
Family Practice
Gastroenterology
General Surgery
Internal Medicine
Nephrology
Neurology
Neurosurgery
Obstetrics/Gynecology
Oncology
Ophthalmology
Orthopedics
Pathology
Pediatrics
Plastic Surgery
Psychiatry
Radiology
Urology
Physician Referral Service
If you need a doctor, Lexington Memorial can refer you to those physicians in our community who are currently accepting new patients. There is no charge for this service. Call (704) 249-8307.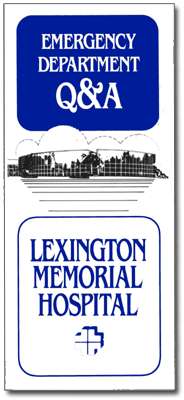 Emergency Department Q&A
Lexington Memorial Hospital
First inside flap:
The Emergency Department at Lexington Memorial Hospital provides the people of Lexington and the surrounding area access to emergency medical treatment 24 hours a day, seven days a week.
Besides multi-purpose examination rooms, the department has emergency treatment rooms specially equipped for handling heart problems, cuts, broken bones, gynecological (female) problems and children's illnesses and injuries.
The Emergency Department's treatment area has room for as many as ten patients at a time.
On an average day, more than 80 patients come to the Emergency Department for help with all kinds of health problems—some more serious than others.
To make sure they take care of the sickest patients first, the Emergency Department staff uses an admissions system called triage (pronounced "TREE-ahje").
Inside panels:
How does triage work?
When patients come to the Emergency Department, a registered nurse who specializes in emergency care immediately checks each one and decides if their condition is "urgent," "non-urgent" or "routine."
For example, a patient having a heart attack would be considered urgent, while someone with a sore throat would probably be classified as routine.
Waiting times vary depending on how many patients need treatment at one time, how sick they are and the type of treatment each one needs. While the Emergency Department staff sees each patient as quickly as possible, patients whose problems are classified as routine and non-urgent may have to wait while the staff takes care of patients whose conditions are urgent.
Patients whose illness or injuries are extremely severe may be transferred by ambulance or helicopter to major trauma centers in Winston-Salem.
Why do you ask so many questions before you treat patients?
Since most people don't enjoy answering questions when they're sick or upset, one of the most common complaints about any Emergency Department is that the staff asks too many questions before treating patients.
With that in mind, Lexington Memorial asks for only the most basic information required by health care regulations, such as the patient's name and address, age and sex, medical history and the name of the person to notify about the patient's condition.
The hospital is required to verify the patient's identity by checking a driver's license or some other form of identification.
The admissions staff will also find out how patients plan to pay for the treatment they receive.
Who staffs the Emergency Department?
The hospital has contracted with a local group of board-certified doctors who specialize in emergency medicine to staff the Emergency Department.
Patients may also be treated in the Emergency Department by other doctors on the hospital staff, such as their own family doctor or, if necessary, a specialist called in by the other doctors to help diagnose and treat a particular condition.
The department's nurses and emergency medical technicians also specialize in emergency medicine.
Can patients in the Emergency Department have visitors?
One parent may stay with a minor child being treated in the Emergency Department. With permission from the staff, both parents may stay with a minor as long as they don't leave their other children alone in the lobby.
Patients brought to the hospital by ambulance may be seen by their family as soon as the patient's condition has stabilized. Two visitors at a time will be allowed into the treatment area for visits of one or two minutes.
As a rule, adult patients can't have visitors in the Emergency Department unless the patient needs help from a friend or family member because of a mental or physical problem, a communication problem or because of the severity or extent of the illness or injury. Adult patients' visitors may be asked to leave while the staff examines or treats the patient.
What do the charges for Emergency Department treatment include?
The bill from the hospital includes charges for the use of the Emergency Department, drugs and supplies used, any tests or X-rays given, and for treatment by Emergency Department doctors.
Charges for treatment by other doctors, including the patient's regular doctor or the hospital radiologists who read X-rays, are billed separately.
What payment terms apply to Emergency Department bills?
Patients are responsible for paying for treatment in the Emergency Department at the time they receive it.
If patients can't pay the entire bill immediately, they may be asked to pay part of the bill before they leave the hospital and work out a schedule for paying the rest of the money they owe.
Will insurance cover Emergency Department treatment?
Whether or not patients' insurance will cover the costs of treatment they receive in the Emergency Department depends on the terms of their policies.
To help make sure they collect any insurance benefits they're eligible to receive, patients covered by individual or group medical policies or by Medicaid or Medicare should present their insurance cards when they're admitted to the Emergency Department.
If a patient was hurt at work and can prove the injury is work-related, he or she may be eligible for Workers Compensation Insurance coverage. The patient's employer can provide additional information on Workers Compensation claims.
Back panel:
Do you have questions or need more information about Lexington Memorial Hospital's Emergency Department?
Contact the hospital's Patient Relations Department at (704) 246-5161.
Do you have a doctor?
If you need a doctor, Lexington Memorial can refer you to those physicians in our community who are currently accepting new patients. There is no charge for this service. Call (704) 249-8307.
Advances in Gallbladder Surgery: Laparoscopic Cholecystectomy
Lexington Memorial Hospital
First inside flap:
Why remove someone's gallbladder?
Most of the 600,000 gallbladders removed in America each year contain hard, pebble-sized globs of cholesterol—gallstones—that are irritating the gallbladder. Although some people have gallstones for years and don't know it, gallstones can cause indigestion, nausea and abdominal pain. If a gallstone moves into certain digestive passageways, painful attacks may require surgery.
Inside panels:
What is laparoscopic cholecystectomy?
Laparoscopic cholecystectomy is gallbladder removal using a laparoscope—a slender telescope equipped with a light—and a miniature video camera.
With the camera and instruments inserted into the patient's abdomen through three or four small incisions, the surgeon watches the video monitor while manipulating the instruments to cut the gallbladder away from the liver and pull it out through one of the small incisions.
How is a laparoscopic cholecystectomy different from a standard cholecystectomy?
With a standard, open cholecystectomy, the surgeon makes a three to six inch long abdominal incision to expose the gallbladder and removes it directly. Most patients need four to six weeks of recovery time and are left with an unsightly scar just under the right side of their rib cage.
By using several small puncture incisions rather than one large one, gallbladder removal using a laparoscope causes much less pain and scarring and permits a much faster recovery time.
How long before I can go back to work?
Barring complications, most patients go home the morning after the operation and can return to non-manual labor after three to five days. Most patients are fully recovered in seven to ten days.
How do the costs compare?
While the charges for laparoscopic and traditional gallbladder removal procedures are about the same, the shorter hospital stay usually makes the total cost of laparoscopic cholecystectomy significantly lower than the cost of the traditional procedure. Since patients are able to return to work sooner, the laparoscopic procedure helps cut the costs of lost productivity, too.
Can anyone with gallbladder problems have a laparoscopic cholecystectomy?
Most patients who can undergo general anesthesia and are not overweight can have the procedure. But if the patient is having an acute gallbladder attack, infection or jaundice, or if gallstones have moved from the gallbladder into the bile duct leading to the small intestine, the surgeon will probably recommend the traditional procedure.
What are the risks?
Along with the risks associated with any type of surgery involving general anesthesia, there can be a somewhat greater risk of internal bleeding with laparoscopic cholecystectomy, compared with the traditional open procedure. Your doctor will discuss any particular risks that should concern you before scheduling your surgery.
Can I have the surgery done at Lexington Memorial?
Both general surgeons on the hospital staff have been trained in the procedure, and the hospital has just purchased the video equipment and instruments used to perform laparoscopic cholecystectomies. Lexington Memorial's first laparoscopic cholecystectomy was performed in November 1990.
What do I do if I think I'm a candidate for laparoscopic cholecystectomy?
See your doctor. If you don't have a doctor, call Lexington Memorial's Physician Referral Service at (704) 249-8307 to ask for the names of doctors on the hospital staff who are accepting new patients.
Back panel:
Personal Progressive Care
Lexington Memorial Hospital is committed to providing you with the very best in personal, progressive health care at reasonable prices. Lexington Memorial offers you and your family:
94 beds in all-private rooms, each with its own bath and window.
The Outpatient Surgery and Diagnostic Center for pre-admission testing, diagnostic and minor surgical procedures.
An Emergency Department open around-the-clock.
Home-like labor-delivery-recovery rooms in the Maternity Department.
A 10-bed Intensive Care Unit equipped with sophisticated cardiac monitors.
X-ray units, a nuclear medicine scanner, a mammography unit, a CT scanner and a whole-body ultrasound doppler.
A bi-weekly Oncology/Cancer Clinic, operated in cooperation with Duke University Medical Center.
---
Let's Talk About Your Marketing Communications Goals and Challenges!
If you're looking for help with writing, graphic design and marketing communications and you like the portfolio samples you see here, contact me to schedule a telephone call to explore the possibilities of a collaboration. Of course, there is no cost or obligation for the call.