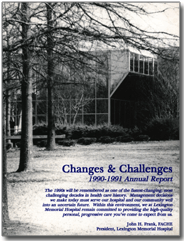 Changes & Challenges
The 1990s will be remembered as one of the fastest-changing, most challenging decades in health care history. Management decisions we make today must serve our hospital and our community well into an uncertain future. Within this environment, we at Lexington Memorial Hospital remain committed to providing the high-quality personal, progressive care you've come to expect from us.
John H. Frank, FACHE
President, Lexington Memorial Hospital
Keeping Costs Affordable: Lexington Memorial's Charges One-Third Lower Than State Average
According to the most recent report of the North Carolina Medical Database Commission, Lexington Memorial's average charges were 33% percent lower than average charges by other North Carolina hospitals during the year ended September 30, 1990. All 124 hospitals in the state are required to report charges to the commission which compiles the information in its annual Summary Guide to Hospital Utilization and Charges.
While charges per case averaged $5,990 statewide, charges per case among Lexington-area hospitals averaged as follows:
| | |
| --- | --- |
| Lexington Memorial | $3,433 |
| Davie County | 3,679 |
| Community General | 3,944 |
| High Point Regional | 4,590 |
| Forsyth Memorial | 5,308 |
| NC state average | $5,990 |
Growing to Serve Our Community: Hospital Building and Medical Park Expansions Underway
Lexington Memorial has begun the first phase of a long-range facilities expansion project. The hospital is also developing additional medical office building sites in the Medical Park next to the main building. Both projects are designed to meet our community's growing needs for certain types of health care services.
During Phase One of the hospital expansion, space is being added to the Physical Therapy and Laboratory departments to accommodate growing usage. A new general storage area, laundry and space to accommodate MRI equipment are also part of the project's first phase. Construction began in September and is expected to be completed in nine months.
The 11.6-acre tract to be developed in the Medical Park is bordered by the hospital's main entrance drive and Old Salisbury Road. Access to the building lots will be provided by an L-shaped drive ending in a cul-de-sac near the pond in front of the hospital. Several doctors have expressed interest in lots in the new section of the Medical Park.
Financing for the Future: Duke Endowment Grant
The Duke Endowment awarded Lexington Memorial Hospital a $140,000 grant to help finance $1,197,000 in construction costs for the first phase of the hospital's long-range facilities expansion project. The Duke Endowment is one of the nation's largest private foundations, with assets of more than $1 billion. Established in 1924 by the late James Buchanan Duke, the endowment supports education, children's homes and not-for-profit hospitals in North and South Carolina. Since 1935, the Duke Endowment has awarded more than $1.6 million to Lexington Memorial for capital projects and general operating support.
Keeping Up With Advancing Technology: New Equipment
This year, Lexington Memorial doctors and patients gained access to two new high-tech tools that help diagnose a variety of illnesses with greater precision and accuracy. In cooperation with several area hospitals, Lexington Memorial contracted with Mobile Technology, Inc., to lease a magnetic resonance imaging, or MRI, unit one day each week. The hospital also acquired a new Single Photon Emission Computerized Tomography, or SPECT, unit, the latest in modern nuclear imaging cameras.
MRI equipment uses a powerful magnet, radio signals and a computer to create images of internal anatomy. The images look like conventional X-rays, but are much clearer and more detailed. Like MRI or CT scanners, the SPECT camera gives very accurate, detailed images showing thin cross-sections of tissue or bone. The camera rotates around the patient, allowing views from different angles and in more than one dimension. The main difference between SPECT and other imaging technologies is the use of radioactive materials.
Preparing Patients to Return Home: Ambulatory Monitoring
Cardiac Unit patients at Lexington Memorial Hospital now have access to a new four-bed Ambulatory Monitoring Unit (AMU) featuring advanced equipment to monitor and transmit their vital signs to a central nursing station using wireless telemetry technology. The typical patient in AMU has had a heart attack several days earlier and, while ready to move out of the Intensive Care Unit, still needs to be watched. The unit is also used by patients who need monitoring while their doctors adjust the type or dosage of their heart medicine and by patients whose doctors suspect heart problems and wish to use the monitoring equipment to help make a definite diagnosis. Once admitted to the AMU, patients continue the recovery process in an attractive, comfortable setting while beginning to learn about caring for themselves after they go home.
Maintaining Industry Standards: Lexington Memorial Accredited for Three Years
In May, Lexington Memorial was awarded a three-year Certificate of Accreditation by the Joint Commission on Accreditation of Healthcare Organizations, a private, not-forprofit organization that sets quality standards for hospitals and other health care providers throughout the country. Participation in the Joint Commission's accreditation program is voluntary and involves a comprehensive review of all aspects of the hospital's management and operation. The process includes a two-day, on-site evaluation by a survey team made up of a physician, a registered nurse, a hospital administrator and a medical technologist. In their written evaluation of the hospital, the team reported Lexington Memorial meets or exceeds accreditation requirements in all aspects of its health care services, procedures and facilities. Lexington Memorial has gone through the accreditation process every three years since the 1930s.
Personal, Progressive Care at Home: Piedmont Home Care
During 1990, Lexington Memorial established a new home health care agency to serve Davidson, Davie, Guilford and Forsyth counties. The agency, Piedmont Home Care, offers a full range of home health care services for adults and children. Like the hospital, Piedmont Home Care is a not-for-profit organization. Services are available around the clock.
Piedmont Home Care works with each patient's doctors and the hospital staff to coordinate the transfer of care from the hospital to home, developing a customized plan of care for each patient. If a patient needs services in addition to those Piedmont Home Care provides, the agency refers the patient to appropriate community organizations.
Increasing demand for professional health care at home prompted the hospital to open the agency. Besides cutting health care costs by reducing the length of hospital stays, home health care services allow patients to stay in comfortable, familiar surroundings.
During its first year, Piedmont Home Care visited more than 260 patients 5,869 times in their homes. The staff grew from 11 to 37, and the volume of visits doubled. The agency recently doubled its office space, too.
Rewarding Outstanding Personal Care: Career Advancement for Nurses
A task force of the hospital's nurses and nurse managers spent most of the '90-91 fiscal year designing a new Clinical Advancement Program to create career opportunities for staff level registered nurses who prefer to remain at the bedside rather than advance their careers through administrative work.
CAP will benefit hospital patients by encouraging skilled nurses to remain directly involved in patient care. CAP is also expected to help lower recruiting and training costs by helping keep qualified nurses on staff and by helping the hospital compete with other employers for the best-qualified job candidates.
Helping Us Meet Our Challenges: The Lexington Memorial Hospital Foundation
During its first two years of operation, the Lexington Memorial Hospital Foundation has raised a total of $160,165, with gifts increasing 35 percent from the first year to the second. The number of donors increased from 271 during the foundation's first fiscal year to 364 the second year.
At its annual meeting, the foundation's Board of Directors agreed to use $71,750 in unrestricted gifts received during the 1990-91 fiscal year to replace the hospital's current mammography equipment. Donors of unrestricted gifts allow the hospital use their contributions where the foundation board determines the funds are most needed. The remaining $20,169 of the $91,919 total contributed to the foundation during the year ending September 30, 1991, will be used as directed by each donor.
---
Let's Talk About Your Marketing Communications Goals and Challenges!
If you're looking for help with writing, graphic design and marketing communications and you like the portfolio samples you see here, contact me to schedule a telephone call to explore the possibilities of a collaboration. Of course, there is no cost or obligation for the call.