I designed brand logos, labels, shipping boxes and a product brochure for Joyce Foods, Inc., a Winston-Salem, North Carolina-based poultry processor and wholesaler.
Brand Logos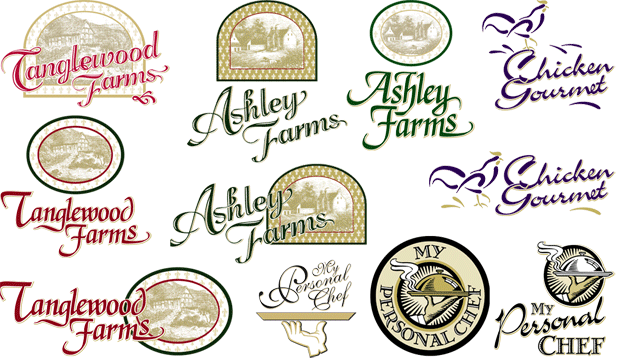 Label Designs and Copy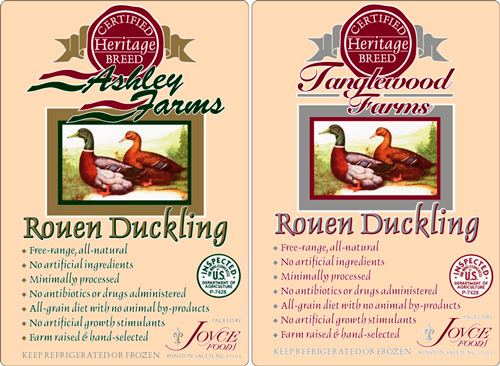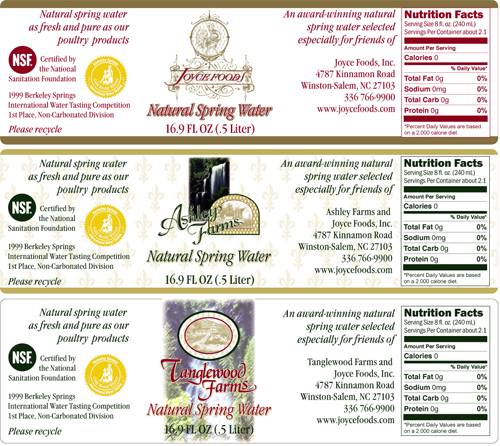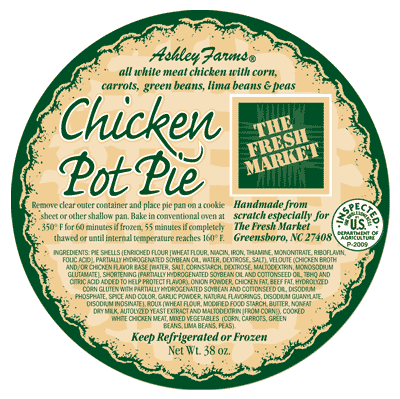 Shipping Box Design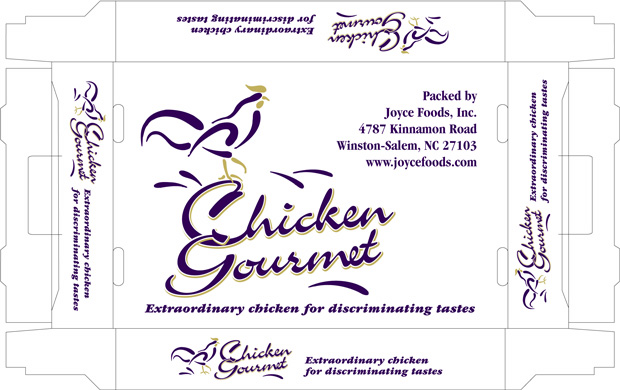 Point-of-Sale Brochure for Ashley Farms Chicken
You've Just Discovered America's Best All-Natural Chicken
"I Went Looking For America's Best Chicken"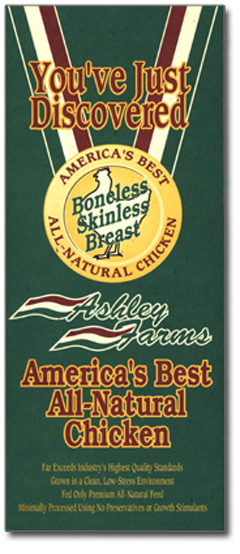 Along the way, I found plenty of good chicken. But I was determined to discover the very best.
When I couldn't find what I was looking for, I decided, with the help of one of the country's best poultry producers, to create my own premium, all-natural chicken product—Ashley Farms Chicken.
My family has been in the poultry business since 1962. We know a good chicken product when we find one, and we know the difference between good chicken and the very best.
What makes Ashley Farms Chicken the best?
Ashley Farms chickens are grown exclusively for Joyce Foods in a clean, low-stress environment. The chickens eat only premium, all-natural feed, scientifically formulated by a nutritionist and thoroughly tested in a USDA-certified onsite laboratory.
When you buy Ashley Farms Chicken, you can rest assured it contains no preservatives or growth stimulants and has exceeded quality standards in ten times the number of tests by the USDA. As a result, you can feel good about eating and serving Ashley Farms Chicken to your family. It offers superior quality you can see and, most important, superior quality you can taste.
From the Joyce family to you and your family, here is America's best chicken—from Ashley Farms.
Ron Joyce, President
Joyce Foods, Inc.
The details make the difference.
Ashley Farms Chicken is very different from other chicken products in hundreds of ways, both large and small. As a result, when you serve chicken from Ashley Farms, you and your family will discover big differences in appearance, taste and quality.
Difference You Can See
With your first glance into your specialty grocer's poultry case, you can see Ashley Farms chicken looks better than ordinary chicken. The color is fresher. Each piece is uniformly shaped and free of excess fat.
That's because at Joyce Foods, we hand-select Ashley Farms Chickens from birds that have already met all the requirements for a USDA Grade A.
Next, we hand-cut and hand-trim excess fat from each bird just the way the best butchers used to in the old days.
We insure freshness throughout processing and shipping with a fully refrigerated distribution system, safeguarded by multiple quality and temperature checks. Our statistical process control system has received highest marks from the toughest independent food inspection team in the industry.
We have deliberately designed the Ashley Farms Chicken processing and distribution system to bring our chickens to your grocer's poultry case as quickly as possible. With a more timely, more accurate ordering system, minimal inventory levels, the shortest possible order-to-delivery cycle and frequent deliveries, we assure you Ashley Farms Chicken is the freshest, most wholesome chicken you'll find anywhere.
Difference You Can Taste
With your first mouth-watering bite, you'll taste the delicious difference between chicken from Ashley Farms and ordinary chicken.
Part of the difference is in the timing. We hand-process Ashley Farms Chicken at the precise time when tenderness is at its peak, not just when it suits us to handle the job.
This extra measure of custom care is one of the primary reasons for the freshness, the all-natural purity, the moist, tender goodness—all the taste-tempting differences Ashley Farms Chicken brings to your table every time you serve it.
Difference You Can Feel Good About
As you may suspect, the great looks and great taste of Ashley Farms chicken result from the meticulous care taken at every step of the growth and distribution process. That makes Ashley Farms Chicken one of the most nutritious, healthful foods you can buy—food you'll feel good about eating and serving to your family.
The superior care starts with the breeder flock.
Ashley Farms chooses its breeders from a select stock. Unlike most producers, who contract out their breeder production, Ashley Farms' producer grows its own pullets in its own houses, complete with concrete, rather than dirt, floors under the litter for the cleanest possible conditions.
Our grower's rigorous bio-security program prevents infection and eliminates the need to treat its baby breeder pullets with antibiotics, a common industry practice used by other growers to control disease. Besides improving the flock's overall health and vitality, withholding antibiotics greatly reduces the chances of infecting the flock with drug-resistant bacteria strains.
The care continues with the feed and water.
Ashley Farms birds eat only premium feed, scientifically formulated by a nutritionist and generously enriched with essential vitamins and minerals. The feed, made of all-natural ingredients, including premium-quality corn, soybean meal and canola meal, is free of coloring agents, assuring a healthy, naturally white skin tone. The chickens drink only fresh well water that is regularly tested to assure purity.
Extensive testing in the USDA-approved on-premises laboratory assures there are no industrial contaminants, pesticide residues or bacteria present in the feed. If any component tests positive for any of these impurities, the feed never enters the grain silo. As an added precaution, the feed is heated to 215° Fahrenheit to kill any bacteria that could possibly remain undetected.
The on-site lab—the only one of its kind in the industry and one of only five private labs certified by the USDA to test for pesticides—also keeps samples of each feed lot, labeled by grower and house, until the birds who ate it have been processed.
The cleanest houses assure the healthiest birds.
Ashley Farms takes a pro-active approach to keeping its flocks healthy by following what may well be industry's most stringent sanitation practices. As a result, Ashley Farms Chickens avoid exposure to harmful bacteria and other hazards and need only minimal antibiotics to stay healthy. Once the chickens are a month old, the grower stops all antibiotic therapy to allow time for any drugs to be eliminated from the chickens' systems before processing.
The sanitation "secret" at Ashley Farms is unwavering attention to cleanliness in its houses.
As part of its intense bio-security program, no one enters an Ashley Farms Chicken house without first suiting-up in sanitary clothes from head to toe and disinfecting hands and boot soles. While some houses re-use the same bedding for a full year or even longer, Ashley Farms thoroughly sanitizes its houses and supplies fresh, clean bedding as many as eight times a year to prepare for each new flock.
Why is fresh bedding so important? As waste products build up in used bedding, ammonia levels rise. Left uncontrolled, this harmful ammonia can weaken the chickens' immune systems, making them more vulnerable to respiratory infections that must be treated using large doses of antibiotics. In some cases, high ammonia levels can cause blistering and even blindness.
At Ashley Farms, low ammonia levels—below the level at which a human nose can detect it—are strictly maintained, resulting in a healthier, less stressed, better-tasting bird.
Growth takes place naturally, in a low-stress environment.
Because Ashley Farms believes chickens raised under humane, low-stress conditions produce a superior product for you and your family, we maintain a low-stress environment in all of our houses, insuring not only optimal growth, but a more tender, better tasting processed chicken.
Flock size is strictly controlled to prevent over-crowding.
The chickens are allowed to roam free within their houses and are never caged or cooped so they can get plenty of exercise.
Lighting is low, and ventilation systems keep fresh air circulating continuously.
These low-stress conditions allow Ashley Farms chickens to mature comfortably and naturally, without the pecking and fighting that occur within most flocks. So while some growers routinely de-beak their chickens to minimize damage from fighting, Ashley Farms birds get to keep their beaks, further minimizing trauma and stress.
The houses are heated in winter and cooled in summer to protect the flocks from the strain of adapting to extreme temperatures. Constant temperatures keep the chickens feeling good and eating well, insuring a healthy, uninterrupted growth cycle.
Ten times the testing assures unparalleled quality.
From breeder stock to pullet, all during the growth process, through processing and delivery, Ashley Farms Chicken undergoes the most intensive, most extensive health and quality assurance monitoring to meet the poultry industry's highest health and quality assurance standards.
In fact, Ashley Farms subjects its chickens to ten times the number of tests required by the USDA. Only after the chickens qualify for the USDA Grade A does our selection process begin. We hand-select Ashley Farms Chicken exclusively from Grade A product, using our higher standards to eliminate all but the very best birds.
Continuing control at retail keeps the quality high.
You won't find Ashley Farms Chicken in every grocery store, and when you do find it, you can be assured your grocer is upholding our highest standards. Joyce Foods will sell Ashley Farms Chicken only to those grocers who agree to follow strict handling practices—methods we teach our retailers in special training sessions.
Joyce Foods makes this extra effort to train and certify retailers to assure continuing freshness, wholesomeness and quality once Ashley Farms Chicken leaves our hands, allowing you to buy our products with complete confidence.
The Result?
Chicken from Ashley Farms is by far the most nutritious, most wholesome, all-natural chicken you'll find anywhere. You can eat and serve Ashley Farms Chicken, knowing it's every bit as good for you and your family as it is tempting and tasty.
It really is America's best chicken.
For all these reasons, we at Joyce Foods have chosen Ashley Farms Chicken as our only premium, all-natural chicken product. For all these reasons, we present Ashley Farms Chicken to you and your family as America's best chicken. We hope your family enjoys it as much as we do.
Better Than "Free Range" Chicken
Some consumers like the idea of eating chickens that have roamed free in the great outdoors, assuming they are naturally more healthy and better-tasting than chickens who've spent their lives indoors.
The problem is, by allowing a flock outdoors, the grower loses control of what the birds eat and drink, making them vulnerable to any and every disease carried by wild birds flying overhead and wild animals passing through.
Also, ironically enough, to have a flock classified and sold as "free range chicken" in the United States, a grower need only provide the chicken access to the outdoors. Since most breeds commonly grown in America actually prefer the indoors, many so-called free range chickens spend their entire lives indoors by choice, often in overcrowded conditions.
At Ashley Farms, our chickens experience the very best of both worlds. They enjoy all the benefits of the great outdoors—fresh air, fresh water and plenty of room to roam free inside their clean, climate-controlled houses. But they are completely protected, safe from the dangers of the outdoors. There's never any risk of exposure to disease, never any stress caused by exposure to the elements, and never any chance the chickens will eat or drink something they shouldn't. That makes Ashley Farms Chicken far superior to free-range chicken, a difference informed consumers readily appreciate.
Ashley Farms Premium All-Natural Chicken—grown exclusively for and processed by Joyce Foods, Inc.
---
Let's Talk About Your Marketing Communications Goals and Challenges!
If you're looking for help with writing, graphic design and marketing communications and you like the portfolio samples you see here, contact me to schedule a telephone call to explore the possibilities of a collaboration. Of course, there is no cost or obligation for the call.