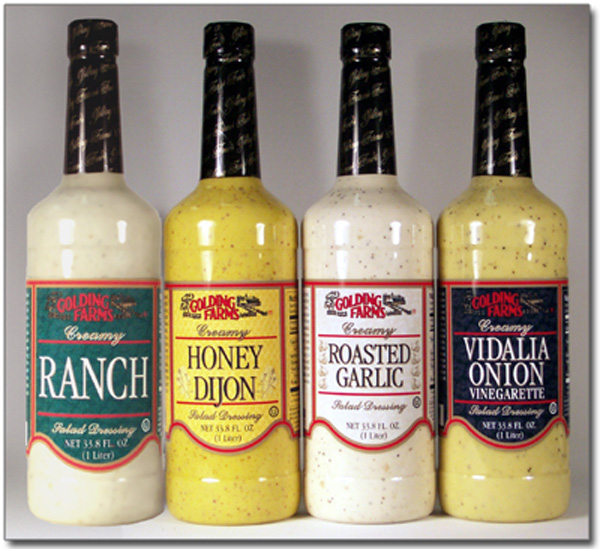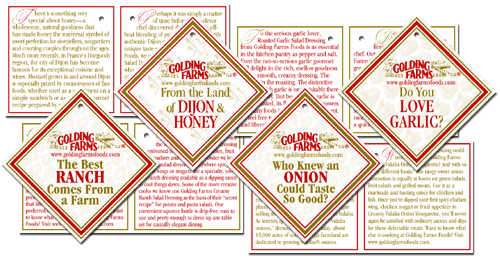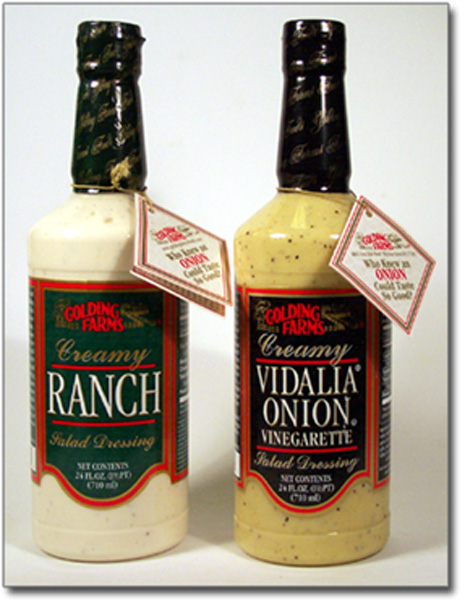 Vidalia Onion Vinaigrette Salad Dressing
Label Side Panel Copy

Inspired by a traditional recipe from the farmlands of Georgia, Golding Farms combines the tangy sweetness of real Vidalia Onions—one of Georgia's most treasured natural resources—with a select blend of herbs and spices to create a truly superb taste sensation. Use it to dress your favorite mix of salad greens or to perk up steamed fresh vegetables. Or use it as a marinade, basting sauce or dip for chicken or fish to impart savory flavor to every bite.
Hang tag copy
Who Knew an Onion Could Taste So Good?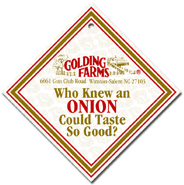 People around Vidalia, Georgia, have known just how good an onion can be since 1931, when a Toombs County farmer planted yellow seed onions he'd ordered from a catalog in the area's rich, sandy soil. The onions he harvested turned out to be much sweeter than they were hot—so sweet they could be eaten like an apple. Other area farmers planted these sweet, mild onions and began selling them at the farmers' market in Vidalia. As tourists spread the word about "Vidalia onions," demand increased. Today, about 15,000 acres of south Georgia farmland are dedicated to growing Vidalia onions.
Who knew a salad dressing could taste as good as Golding Farms Creamy Vidalia Onion Vinaigrette? And with so many different foods? The tangy-sweet onion concoction is equally at home on green salads, fruit salads and grilled meats. Use it as a marinade and basting sauce for chicken and fish. Once you've dipped your first spicy chicken nugget or fried appetizer in Creamy Vidalia Onion Vinaigrette, you'll never be satisfied with ordinary sauces and dips for these delectable treats. Want to know what else is cooking at Golding Farms Foods? Visit www.goldingfarmsfoods.com.
Ranch Salad Dressing
Label Side Panel Copy

With its smooth texture and subtle blend of flavors, Golding Farms' Creamy Ranch Salad Dressing is the perfect choice for topping crisp salad greens. As a quick and easy dip, Creamy Ranch complements all your favorite fresh vegetables and fruits, crackers and chips. Serve it with spicy chicken wings and grilled meats as a cooling condiment or as a dipping sauce for chicken nuggets, fried cheese and vegetable appetizers, French-fried potatoes and onion rings.
Hang Tag Copy
The Best Ranch Comes from a Farm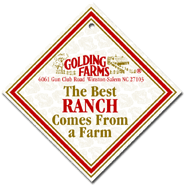 It may be named for a ranch—where the recipe originated in the late '50s—but these days, the best ranch dressing comes from a farm—Golding Farms Foods. In the 25 years ranch-flavored dressing has been available nationally, its blended herbs and smooth texture have made it America's best-selling salad dressing. As a leading bottler of specialty dressings, sauces and marinades, Golding Farms has created a premium ranch dressing all its own—giving it that little extra "kick" consumers strongly preferred over a leading national brand. Want to know what else is cooking at Golding Farms Foods? Visit www.goldingfarmsfoods.com.
For a true lover of ranch dressing, salad greens are only the beginning. As a dip, ranch dressing has enlivened so many fresh vegetables, fruit slices, crackers and chips, it's a wonder we keep calling it "salad dressing." Anywhere spicy chicken wings or nuggets are a specialty, you'll find ranch dressing available as a dipping sauce to cool things down. Some of the more creative cooks we know use Golding Farms Creamy Ranch Dressing as the basis of their "secret recipe" for potato and pasta salads. Our convenient squeeze bottle is drip-free, easy to use and pretty enough to dress up any table set for casually elegant dining.
Roasted Garlic Salad Dressing
Label Side Panel Copy

A staple in any gourmet kitchen, garlic has long been celebrated for its distinctively pungent flavor, making it an essential ingredient in recipes both old and new from throughout the world. When roasted, garlic takes on a mellow richness that greatly extends its versatility and appeal. That's why Golding Farms Roasted Garlic Salad Dressing is equally at home on salad greens and steamed vegetables, as a dip for hot hors d'oeuvres, or as a marinade and basting sauce for all your favorite cuts of meat.
Hang Tag Copy
Do You Love Garlic?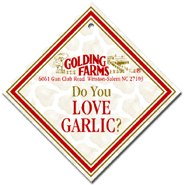 To the serious garlic lover, Creamy Roasted Garlic Salad Dressing from Golding Farms Foods is as essential in the kitchen pantry as pepper and salt. Even the not-so-serious garlic gourmet will delight in the rich, mellow goodness of this smooth, creamy dressing. The secret's in the roasting. The distinctive flavor of fresh garlic is unmistakably there in all its glory. But because the garlic is lightly roasted, its flavor never overpowers the many foods it's meant to complement. So feel free to pour it on—both literally and liberally. Don't let the "salad dressing" in the name limit your imagination as a savvy chef. Outside the salad bowl, Golding Farms' Creamy Roasted Garlic Salad Dressing is great for marinating meats and seafoods, ideal as a grilling and basting sauce, and perfect as a dip for fresh vegetables and hot hors d'oeuvres. Use it to spice up potato, broccoli or pasta salads. Turn plain old steamed vegetables into sensational side dishes with just a twist of the cap. The more you use it, the more you'll love it as a quick, easy shortcut to a superb meal.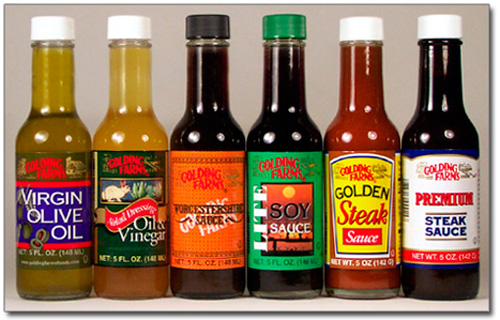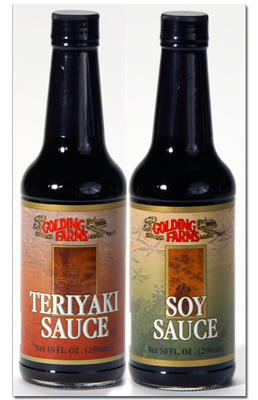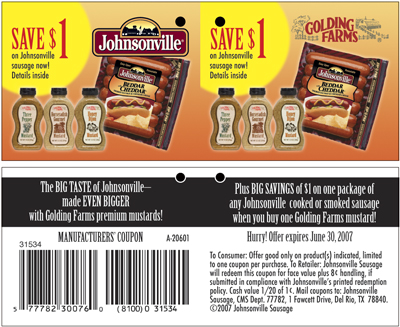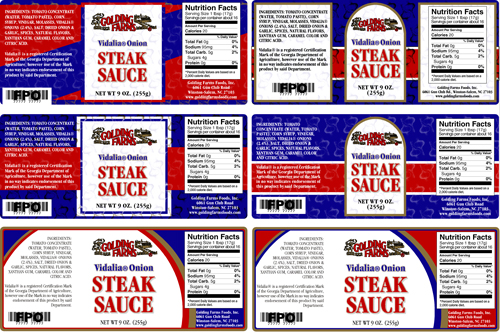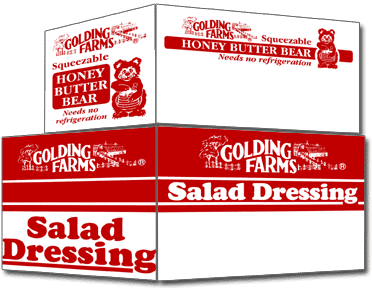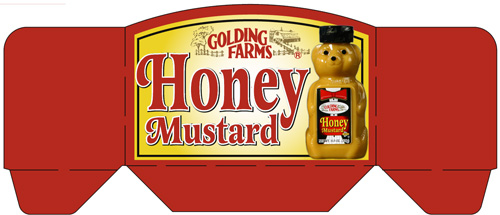 ---
Let's Talk About Your Marketing Communications Goals and Challenges!
If you're looking for help with writing, graphic design and marketing communications and you like the portfolio samples you see here, contact me to schedule a telephone call to explore the possibilities of a collaboration. Of course, there is no cost or obligation for the call.