I helped Columbia Life Rehabilitation, based in Windsor, Ontario, Canada, promote their rehabilitation services by writing and designing a promotional flyer.
Sales Flyer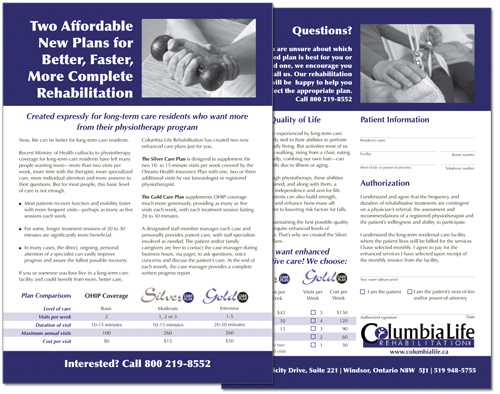 Two Affordable New Plans for Better, Faster, More Complete Rehabilitation
Now, life can be better for long-term care residents.
Recent Ministry of Health cutbacks to physiotherapy coverage for long-term care residents have left many people wanting more—more than two visits per week, more time with the therapist, more specialized care, more individual attention and more answers to their questions. But for most people, this basic level of care is not enough.
Most patients recover function and mobility faster with more frequent visits—perhaps as many as five sessions each week.
For some, longer treatment sessions of 20 to 30 minutes are significantly more beneficial.
In many cases, the direct, ongoing, personal attention of a specialist can vastly improve progress and assure the fullest possible recovery.
If you or someone you love live in a long-term care facility and could benefit from more, better care, Columbia Life Rehabilitation has created two new enhanced care plans just for you.
The Silver Care Plan is designed to supplement the two 10- to 15-minute visits per week covered by the Ontario Health Insurance Plan with one, two or three additional visits by our kinesiologist or registered physiotherapist.
The Gold Care Plan supplements OHIP coverage much more generously, providing as many as five visits each week, with each treatment session lasting 20 to 30 minutes.
A designated staff member manages each case and personally provides patient care, with staff specialists involved as needed. The patient and/or family caregivers are free to contact the case manager during business hours, via pager, to ask questions, voice concerns and discuss the patient's care. At the end of each month, the case manager provides a complete written progress report.
Questions?
If you are unsure about which enhanced plan is best for you or your loved one, we encourage you to call us. Our rehabilitation experts will be happy to help you select the appropriate plan.
Call 800 219-8552
A Better Quality of Life
The quality of life experienced by long-term care residents is directly tied to their abilities to perform simple tasks of daily living. But activities most of us take for granted—walking, rising from a chair, eating a meal without help, combing our own hair—can become impossible due to illness or aging.
Fortunately, through physiotherapy, these abilities can often be regained, and along with them, a renewed spirit of independence and zest for life. Physiotherapy patients can also build strength, improve balance and enhance bone mass–all critically important to lowering risk factors for falls.
Achieving and maintaining the best possible quality of life may well require enhanced levels of rehabilitative care. That's why we created the Silver and Gold Care Plans.
---
Let's Talk About Your Marketing Communications Goals and Challenges!
If you're looking for help with writing, graphic design and marketing communications and you like the portfolio samples you see here, contact me to schedule a telephone call to explore the possibilities of a collaboration. Of course, there is no cost or obligation for the call.