Feature Articles
'Pioneer' Hospitals, Large Health Systems Strive to Stay Local
Southwest Virginia Market Profile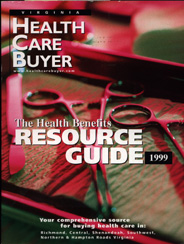 Managed care has yet to penetrate significantly beyond Virginia's metropolitan areas to the state's mostly rural Southwest Region. However, several managed care players are clearly interested in moving in, and as they do, the region's oversupply of beds and higher-than-average hospitalization rates make further hospital affiliations seem almost inevitable.
Working to Stay Autonomous
Even though the courting of community hospitals by larger health systems continues, many in the Southwest Region are striving to remain independent. Marcus G. Kuhn, CEO of Twin County Regional Hospital in Galax, says his hospital remains independent for one reason—autonomy.
"Our objective is to remain independent because we see that as the best way to provide the services the community needs and keep local control," Kuhn explains. "That's also what the community wants." But Kuhn admits that, "at this point, trying to stay independent is like being a pioneer."
Like Twin County Regional, Johnston Memorial Hospital in Abingdon is also remaining independent. "Our board has evaluated all types of opportunities to merge and affiliate, and they've decided it was not in our best interest to do so," says William D. Carmack, Johnston Memorial's director of managed care.
Citing "loss of control" as the greatest disadvantage of the offers fielded so far, Carmack says, "It's the intent of our board and medical staff to remain independent as long as it is economically feasible."
As more managed care moves into the Southwest Region, hospitals looking to remain independent must work hard to improve efficiency and, as a result, quality.
"We're finding quality doesn't come from expending more resources to take care of people," says John Kralovec, a principal and consultant with William M. Mercer, Inc., who heads an annual study of hospital cost efficiency and quality of care that serves as the basis for "100 Top Hospitals," a list compiled annually for the past six years by Mercer and HCIA, Inc. "Quality is more a question of doing the right things, which leads to improvements in cost efficiency. You can't unbundle the two."
In rural areas, there is generally higher utilization of hospital services because of a lack of outpatient and ancillary services. The 1998 "Dartmouth Atlas of Health Care" found that the western-most portion of the Southwest Region stands out as the commonwealth's most abundantly supplied with hospital beds. The western counties of the Southwest Region have 3.9 hospital beds per 1,000 residents. In comparison, the national average is 3.0 hospital beds per 1,000 residents.
Southwestern Virginians also occupy those hospital beds at a rate above commonwealth averages. Compared with 10 other Virginia referral regions, the Dartmouth Atlas reports the Southwest Region's hospitalization rates rank first for seven of 12 ailments evaluated and above average in all 12 ailments.
"In Southwest Virginia, you're dealing with geography, which we believe contributes to the higher number of beds and higher utilization," says John Mitchell, vice president of marketing for Data Resource Management, a firm that maintains and analyzes health care databases. "A 20-mile drive in a mountainous region is like a 40- or 50-mile drive somewhere else, so what you see—and we've noted this in several studies—is when you're dealing with a mountainous region, you tend to see these patterns of a few more beds and more utilization. There's a tendency for providers to say, `let's just keep the patient here for an extra day, that way we can save the patient the risk of going home too early, and if something does go wrong, they don't have to fight that kind of geography to get back to the hospital.' If you talk to hospital administrators and physicians in Southwest Virginia, you hear this referred to a lot."
Still, in Southwest Virginia, as in regions throughout the country with higher-than-average hospitalization rates, there were no significant differences in Southwestern Virginians' health or medical outcomes. "As a rule, the more managed care, the more aggressive hospitals have to be in improving their performance," Kralovec says.
Managed Care Contenders
Currently, Virginia's Southwest Region has the lowest managed care penetration rate in the commonwealth, according to National Research Corporation's Healthcare Market Guide Study 1998. Total HMO penetration is approximately 19 percent, and commercial market penetration is about 26 percent. PPOs have approximately 36 percent of the total market and 48 percent of the commercial market.
In the Roanoke area, which is the region's largest city, there is a fair number of managed care players. Six HMOs have established themselves: HealthKeepers, Inc., QualChoice of Virginia Health Plan, Heritage National Healthplan, Partners National Health Plans of North Carolina, MD, Individual Practice Association/Optimum Choice (MAMSI) and Southern Health Services, Inc.
"It's going to take a little bit of time for people in this part of Virginia to move to managed care and be comfortable with that move," says Carolyn H. Chrisman, COO of Carilion Health Plans (CHP). In addition to serving as a wholesaler of Carilion Health System services to other HMOs, CHP began offering its own HMO and POS health plans in the market as of January 1.
In marketing her new plans, Chrisman emphasizes local provider ownership. "Carilion is the only plan here owned by local providers, and I believe that makes a tremendous difference in the way decisions are made," she says. "I believe it is better for the community for the decisions to be made locally. That's how we differentiate ourselves."
Winston-Salem, N.C.-based Partners, another relative newcomer to the Southwest Region managed care market, is also provider-owned. Stuart Veach, Partners' vice-president, says that for now, the company has no plans to expand its Virginia marketing territory beyond the Southwest Region.
"We want to serve people close to the border," Veach says. "We've got a good start there, and a very good network available."
Based on his company's successful track record in North Carolina, Veach says Partners brings managed care expertise to Virginia that will help providers improve patient care and efficiency.
"By knowing what works, we can help the medical community to benefit their patients," he says. "We're an agent of change in these newer markets, and that puts us in the forefront."
Two Large Systems
On the Southwest Region's eastern side, where managed care has the strongest presence, providers clearly see affiliation as the key to survival. Interweaving their way west from Roanoke, Carilion Health System and Columbia Healthcare of Southwest Virginia are the major forces.
After a 20-year relationship with Carilion Health System as a managed affiliate, Wythe County Community Hospital recently signed a new management contract by which Carilion will acquire 40 percent of hospital assets.
"We believed, from everything we saw in the environment, that the days of a stand-alone, rural community hospital were over with," says Wythe County Community Hospital CEO Larry Chewning. "We thought a minority asset sale would best solve the issues we were trying to deal with."
Roanoke-based Carilion Health System owns or manages hospitals in Roanoke, Rocky Mount, Radford, Pearisburg, Tazewell, Wytheville and Marion, plus Carilion Bedford Memorial in the Central Region. Its Carilion Health Plan is the region's first provider-owned managed care plan.
"We're not an aggressive acquirer of hospitals," says Bill Merkt, vice president of strategic planning for Carilion Health System. "Carilion is always interested in partnering with other non-profits that have the same mission and values we do."
Smyth County Community Hospital is a recent addition to the Carilion system. The hospital's board voted last September to enter a partnership with Carilion, which has agreed to invest $26 million in the hospital.
Carilion's flagship, Roanoke Memorial Hospital, serves as a regional tertiary care facility for western Virginia. Carilion Roanoke Community Hospital near downtown is the region's referral center for women's and children's health. At Carilion Giles Memorial Hospital in Pearisburg and the Carilion-managed affiliate, Tazewell Community Hospital, Carilion offers both inpatient and outpatient general medical and surgical care. In Radford, Carilion Saint Albans Hospital is the system's psychiatric hospital.
In March, Carilion Radford Community Hospital moved patients from its former location, tucked away in a residential neighborhood near downtown Radford, to a new facility on a 112-acre site near Interstate 81.
Columbia/HCA Healthcare Corporation, the country's largest for-profit hospital chain, manages five hospitals in the Southwest and Shenandoah Regions as Columbia Healthcare of Southwest Virginia. Its properties include Lewis-Gale Medical Center in Salem, the group's tertiary care facility, Alleghany Regional Hospital in Low Moor, Clinch Valley Medical Center in Richlands, Montgomery Regional Hospital in Blacksburg and Pulaski Community Hospital in Pulaski. The company has no current plans to expand this market.
To ensure accessibility and control health care costs, the Columbia hospitals participate with a variety of managed care companies, says Carol Chappell, director of business development and marketing for Columbia Healthcare of Southwest Virginia. The company has no plans to develop a managed care plan of its own, offering instead a hospital and physician network that works with a variety of third party administrators.
"In this changing managed care environment, we're finding that employers appreciate the flexibility of choosing their own plan administrator," Chappell says. "Our physician and hospital network gives them access to quality care while letting them choose who manages that care."
Chappell says a primary focus of the Columbia network has been to bring comprehensive services to the local communities, such as establishing oncology centers in both Salem and Pulaski. "By establishing high-level cancer and heart services in our non-urban hospitals, we can bring needed services closer to home for many people in Southwest Virginia," she says.
Acquiring More Links to Health Systems' Chains
Dominated by Carilion and Columbia, fewer than half the Southwest Region's hospitals remain unattached. Hospital acquisitions in the region by two other large systems—Community Health Systems and Wellmont Health System—may signal more competition ahead.
Wellmont Health System, based in Kingsport, Tenn., began in 1996 with the merger of Bristol Regional and Holston Valley medical centers. Six months later, Lonesome Pine Hospital in Big Stone Gap completed its merger with the system.
Russell County Medical Center in Lebanon is the first Virginia hospital to become part of for-profit Community Health Systems' chain of nearly 50 hospitals in 17 states. The company specializes in operating acute care hospitals in non-urban markets.
With the ink barely dry on its lease-purchase agreement with Greensville Memorial Hospital in Emporia, Community Health seems likely to pursue additional Virginia acquisitions.
"There are several candidates that come to mind throughout the state," says Ken Hawkins, Community Health System's vice president of acquisitions and development. "We like Virginia."
Hawkins says he has a proposal in at one Virginia hospital—a response to the hospital's request for proposals—among "a lot of things we're doing" in the commonwealth. Unlike the "spoke and wheel" models some chains use to funnel patients from smaller community facilities to their flagship hospitals, Hawkins says Community Health provides the capital and support its community hospitals need to provide more and better services locally.
"Health care is a local issue, so we try to do everything we can to expand services, upgrade equipment and fund capital improvements to help our hospitals be the leading providers of care in their communities," Hawkins says. If that's the true focus, Hawkins may soon find himself making headway toward acquisitions with the region's remaining independent pioneers.
Independents' Initiatives Keep Region Ahead of the Curve
Shenandoah Region Market Profile
If you measure managed care by market penetration numbers, Virginia's Shenandoah Region has far to go before catching up with the commonwealth's major metropolitan areas. But in terms of the purported benefits of managed care—cost efficiency and quality of care—the region is well ahead of the curve.
Led by two independent hospitals in the heart of the valley—Augusta Medical Center in Fishersville and Rockingham Memorial Hospital in Harrisonburg—and Valley Health System to the north, the region's providers have tackled cost and quality issues without waiting for the pressures of managed care to bear down.
Independent, Yet Cooperating
Hospitals in the Shenandoah Region have found that they can remain strong by staying independent, but not isolated. This strategy has proven so effective for Augusta Medical Center that the hospital made both the 1997 and the 1998 "100 Top Hospitals" list compiled annually for the past six years by HCIA, Inc., and William M. Mercer, Inc. The list recognizes 100 of the 3,258 American hospitals for delivering the highest quality and most cost-efficient medical care based on performance measures such as mortality rates, complications, length of stay, occupancy and productivity.
"In many cases, managed care has driven hospital performance," says John Kralovec, a principal with Mercer who heads the study. "In other cases, it's the vision and the strategy of the senior executive group. There isn't a hospital executive out there today who isn't acutely aware of the pressures on hospitals. The successful ones don't wait to be pushed."
Augusta CEO Richard H. Graham attributes his hospital's Top 100 status to several key factors.
Physicians and hospital staff are cooperative and share a sincere interest in quality and cost control. The 255-bed facility, built in 1994, is designed to promote productivity and efficiency. In addition, he says, Augusta Health Care, Inc.—the parent company that operates the medical center and ancillary services—has focused its resources on its key competencies as a regional health care provider, leaving risk management to insurers. Augusta did organize a physician hospital organization (PHO) in 1996, but it is now integrating it back into the hospital.
"We may have won by not losing," explains Graham. "We have tended to stick to what we know we do well, so we have not done a lot of the trendy things. We've taken a good bit of abuse from people who say we're old fashioned, but that's been our strategy. And it looks like, whether accidental or brilliant, it's working."
Like Augusta Health Care, Rockingham Memorial Hospital, which opened its new $27 million, 266-bed facility in August 1998, has remained independent and developed a vertically integrated delivery system to provide a continuum of care throughout its service area. Rockingham Memorial also participates in Valley Health Plan, a PHO it co-owns equally with member physicians.
"We're able to make group contracts with insurers and third party administrators through Valley Health Plan and still remain independent," notes Deborah York, Rockingham Memorial's director of marketing. "As an independent hospital, we can focus on the specific needs of our community and work more collaboratively with local physicians and community agencies and organizations. In health care, there's never a 'never,' but for now, our board is committed to remaining independent."
Both Rockingham Memorial and Augusta Medical Center maintain close working relationships with the University of Virginia Medical Center—another Top 100 hospital—through their co-ownership of VaLiance Health, a limited liability corporation the three created in 1997 to help facilitate how the hospitals work together. Stonewall Jackson Hospital in Lexington joined VaLiance Health soon after the 138-bed hospital's management contract with Carilion Health System ended in July 1998.
"The feeling was that Carilion represents more of a centralized approach, and the board wanted a more independent relationship," says Robert E. Huch, Stonewall Jackson CEO, adding that his hospital remains part of the Carilion Health Plan provider network "VaLiance offers us opportunities to work together for the common good of our hospitals and our communities as four independent hospitals."
Julie Jolly, CEO of VaLiance Health, says the group recently invited Page Memorial Hospital in Luray to participate for six months to give Page "an opportunity to understand what the organization is about without any commitment to join."
Jolly says VaLiance has made a presentation to Bath County Community Hospital in Hot Springs and is revisiting its operating agreement to create an associate membership for smaller hospitals.
Jolly is also president of Shenandoah Shared Hospital Services, a not-for-profit hospital cooperative established in 1981 to give the region's community hospitals access to high-cost technology and related services. Shenandoah Shared owns and operates both mobile and fixed diagnostic equipment and offers consulting services in clinical pharmacy, systems engineering and biomedical engineering.
Serving the Shenandoah region's two northernmost counties along with eight other Northern Virginia counties, Valley Health System operates Winchester Medical Center, a regional referral hospital, Warren Memorial Hospital and War Memorial Hospital in Berkeley Springs, W. Va. As a member of Premier, a national alliance of more than 1,700 affiliated hospitals and health care institutions with $10 billion a year in group purchasing power, Valley Health System sponsors 11 hospitals.
"Our strategy through the years has been to make the small, independent hospitals as successful as possible," says Lawrence K. Van Hoose, vice president of Valley Health System. "They handle the primary care, and we hope they'll refer any tertiary care to our system."
Changes in Provider-Owned Insurance Product
The Shenandoah Region has somewhat lagged behind other regions of Virginia as far as managed care penetration. The market penetration for HMOs in the Shenandoah Region is 24 percent for the total market and 30 percent for the commercial market, according to National Research Corporation's Healthcare Market Guide Study 1998. PPO penetration is 34 percent for the total market and 41 percent for the commercial market.
Some of the leading insurers in the Shenandoah Region include UVa's QualChoice, Mid-Atlantic Medical Services, Inc. (MAMSI), CIGNA HealthCare Mid-Atlantic, Inc., and NYLCare Health Plans of the MidAtlantic, Inc., which was purchased by Aetna U.S. Healthcare, Inc.
A provider-owned managed care product has undergone much change over the last year. In July 1998 CommunityHealth, the managed care insurance company created by Valley Health System and 15 other hospitals, hired Optima Health Plan, owned by Sentara Health Management and based in Virginia Beach, to provide management and consulting services. After a comprehensive review of their organization, CommunityHealth had begun looking for a partnership with another insurer. "They looked at two companies," says Rick Mathewson, Sentara's vice president of sales and marketing, "and as a result of negotiations over the late fall and early winter, they ultimately chose Sentara Health Management."
Beginning on April 1, CommunityHealth ceded its fully insured PPO and POS policies to Optima. "We will administer those policies until their renewal dates, at which point we will offer those customers continuation of coverage with Optima," Mathewson says. Optima will market the plans—which differ only slightly from the existing CommunityHealth products—under the name "CommunityHealth by Optima."
"We see this merger as an enhancement of the insurance products CommunityHealth offers," says Van Hoose, vice president of Valley Health System. Citing CommunityHealth's 25,000 covered lives and Optima's 280,000 covered lives, he adds, "It's a plus for us because Optima is strong in the so-called `back room operations.' They've been in business awhile, and they have a good track record."
"We think this is a win-win for all parties," Mathewson says. "CommunityHealth gets to take advantage of our administrative and health plan expertise, and we significantly expand our network for our customers in the Hampton Roads area who may have employees in other parts of the state. The customers win because they continue to have access to high-quality, local medical care management and networks."
Mathewson says Optima's distribution will continue to be through independent brokers, adding, "We hope we will be able to retain or enlarge the broker relationships CommunityHealth had forged in each of its markets. We think those brokers are the key to growth in their communities."
In addition to PPO and POS products, Optima sells HMO, Medicare and Medicaid plans in the Hampton Roads market. For now, however, Mathewson says Optima plans to market only the PPO and POS products in CommunityHealth's service area. "Our strategy is to provide products the markets want," he explains. "That's different from saying, 'We've got an HMO and that's what you want to buy.' We want to be market driven."
A Step Ahead
According to Kralovec, the next step in improving health care quality and cost efficiency over the next three to five years will involve more focus on clinical practices. "There are still huge, unexplainable variations in care, not only from region to region but within organizations as well," says Kralovec.
Already a step ahead, Augusta Health Care is examining its clinical practices. "We're trying to look both internally and externally for what the industry is now calling `best practices,'" Graham says. "Often, it's just a matter of education. `Did you know drug A works as well as drug B and costs half as much?' Asking those kinds of questions day to day makes physicians think about it so it becomes part of your culture."
Adds Jolly, "We're looking at clinical pathways and doing more clinical and home health bench-marking so we can measure our own practices against best practices."
Providers in the Shenandoah Region believe that by providing the best, most efficient care and choosing their strategic partnerships carefully, community hospitals will remain viable well into the future. "Health care has traditionally been a local phenomenon, but these hospitals are going to have to look for regional partnerships," Van Hoose says. "For years, futurists have said there are going to be four or five hospital systems in the United States, but I think there will always be independent community hospitals."
Keeping the Cost-Quality Balance
Central Virginia Market Profile
For decades, community leaders throughout the Central Region have demonstrated their ability to maintain the cost-quality balance exceptionally well without the pressures of heavy managed care market penetration. Although the approaches are varied, common sense and collaboration are themes interwoven throughout all the Central Region's success stories.
Cooperation Instead of Competition
The University of Virginia Medical Center (UVa) in Charlottesville, which had its share of negative publicity during the past year, also had an excellent achievement. The medical center was ranked one of 1998's "100 Top Hospitals" in the sixth annual survey list released by HCIA, Inc., and William M. Mercer, Inc. It was the only major teaching hospital of the South's 15 to make the list. This distinction was out of a total of 3,258 hospitals evaluated nationwide by researchers for quality of care and cost efficiency.
UVa began laying groundwork for these results decades ago, but a value improvement program launched five years ago may well have been the strategy that pushed the medical center to Top 100 status.
"Fifteen years ago, teaching and research were our highest priorities, and patient care was third on the list," observes Maureen Wellen, UVa's director of marketing and communications. "But the value improvement program made us focus more on patient satisfaction and quality, and that helped us realize patient care needed to be number one."
Wellen says by reorganizing into service centers, the Medical Center transformed physician and staff working relationships while streamlining patient care. "By organizing doctors and support people around a disease, we really, truly have made health care an interdisciplinary team effort," she explains.
In addition to its traditional clinical departments, the Medical Center created Specialty Care Service Centers for cancer, heart disease, kidney disease, psychiatric diseases and organ transplants. The Children's Medical Center specializes in pediatrics, and the Women's Place concentrates its resources on women's health.
"Organizing the Specialty Care Service Centers really broke down traditional barriers and allowed us to think more systematically about patients and their diseases," Wellen says. "Having physicians and hospital staff together in one building has also provided many more opportunities to talk to each other, and that improved communication has promoted a new level of cooperation that is very beneficial to our patients."
The Charlottesville region is served by two distinct types of hospitals that provide services in an environment of cooperation and healthy competition.
Martha Jefferson Hospital has developed a loyal following among patients by emphasizing personal attention. "Our size allows us to focus on service issues," explains Elliot Kuida, vice president of managed care.
To accommodate the community's dual hospital preferences, Martha Jefferson offers a number of services also available at University of Virginia. Many University of Virginia physicians have privileges at both the Medical Center and Martha Jefferson, and the two hospitals jointly own and operate a heart catheterization lab at the community hospital.
"For many people, there does seem to be a strong preference for one institution or the other, and that has led to some overlap," says Kuida. "We don't plan to offer the highly specialized services you find at the Medical Center, but we will continue to give our community a choice of hospitals for the health care services they need."
Through the Martha Jefferson physician hospital organization (PHO), the hospital and its physicians have direct contracts with a number of area employers, as well as provider relationships with all major managed care plans serving the Charlottesville market. Formed nearly a decade ago, the organization transformed itself into a for-profit PHO in 1996.
"We realized we were moving toward a more risk-based environment, and we wanted to make sure we had the appropriate vehicle to negotiate capitated contracts and other forms of risk-sharing arrangements," explains Kuida.
Keeping an Eye Toward Community Interests
Lynchburg's tradition of managed care dates back to the early 1970s when the city's two hospitals—270-bed Lynchburg General Hospital and 388-bed Virginia Baptist Hospital—began a voluntary effort of cooperation. To avoid duplication of services, Lynchburg General has evolved into a critical care hospital, offering emergency services, intensive care, cardiology, orthopedics, neurology and neurosurgery services. Baptist focused its resources on women's and children's services, outpatient surgery, oncology and mental health services. Baptist is opening a new ambulatory surgery center and comprehensive birthing center in June.
In 1986, the two hospitals merged to form Centra Health, a not-for-profit organization that also operates primary care practices in surrounding communities, health care clinics, a nursing center, a counseling center and a diagnostic lab. With Integrated Health Care, Inc., Centra created Piedmont Community Health Plan in 1994.
That spirit of cooperation has paid off in Lynchburg. During 1998, Lynchburg was cited by the "Dartmouth Atlas of Health Care" as having the lowest cost in the nation in Medicare spending per patient. Lynchburg spent $2,887, compared to a national average of $4,878, per non-HMO Medicare enrollee.
"We have extremely low costs while maintaining high quality," says Marijo Lecker, vice president for Centra Health. "It's really the history of the Lynchburg marketplace. The high level of cooperation, the merger and consolidation of services at the two hospitals, physicians who practice very good medicine—it's really just doing the right thing."
Three years after the merger, several Lynchburg-area employers decided to form the Lynchburg Health Care Coalition to help control health care costs, inviting physicians, hospital administrators and insurers to participate as voting members. This was a move employers in just about any other community would see as fraternizing with the enemy. At first, there was some venting of frustrations by all constituents, but before long, constructive problem-solving began, according to John Gray, area human resource and quality manager for Weyerhaeuser Company.
Early on, the coalition focused on workers' compensation issues and determined that most problems were rooted in poor communication among physicians, hospitals, employers and insurers. Together, coalition members hammered out simple, workable solutions. The group asked employers and physician practices each to designate a workers' compensation contact to handle questions about injured employees' cases. The coalition also developed a form that virtually all Lynchburg area doctors now use to advise employers on precisely what limits the doctors recommend for injured employees returning to work.
Area employers use standard Workplace Profile forms to help health care providers understand their working conditions and workers' compensation policies. Copies of completed forms from about 50 employers are on file in physicians' offices and at the hospital emergency department.
"The forms were a major breakthrough in communication between businesses and the medical community," Gray recalls.
Gray, an executive board member of the coalition, has co-chaired the Workers' Compensation Task Team since 1989. That year, Weyerhaeuser's workers' compensation costs totaled $105,000. By 1990, the total dropped to $66,000, and then it dropped to $5,000 in 1991. In the seven years since, Weyerhaeuser's workers' compensation costs have averaged $23,430—78 percent less than the beginning total. "Weyerhaeuser has not experienced a lost-time accident since 1991, working in excess of two million labor hours," Gray says.
Reduced workers' compensation costs are not the only evidence of Lynchburg's progressive approach to managing health care quality and costs.
Alan Wood, president and CEO of Piedmont Community Health Plan, reports that the PHO has 30,000 covered lives as of the first quarter in 1999, the result of continuing stable growth accompanied by improved cost efficiency and utilization. Although he expects the growth to continue, Wood says, "It's never been our intention to expand geographically beyond the Lynchburg area. The only time we've done that is when an employer has employees in neighboring communities."
The PHO, which contracts directly with self-insured employers, recently received an HMO license and added a fully insured product. "We're going open access within the next few months and getting a good response from the community," Wood notes.
As for Piedmont's future, Wood expects the growth to continue, along with further improvements in quality and cost efficiency. "As well as we've done, we know we can do better," he says.
In Danville, the Danville Regional Health System just completed a construction project, with further investments "already in the pipeline," according to Brad Sexauer, the system's vice president of planning and marketing. On the drawing board are plans to renovate and expand facilities for women's and children's services and to add a new med-surge unit on top of an existing structure. "We had the foundation built to accommodate two additional floors," he notes. Additional long-term plans call for expanded ambulatory care services.
Pittsylvania, Henry and Halifax county employers contract with Danville Regional Medical Center through its 125-member PHO, the Gateway Health Alliance. Through a partnership with Southern Health Services, Inc., a Richmond-based insurer licensed to operate in the system's service area, Gateway offers HMO, POS, PPO and regular indemnity products.
East of Danville, at the region's southeastern tip, Greensville Memorial Hospital in Emporia just signed a five-year, $8 million operating lease with for-profit Community Health Systems, based in Brentwood, Tenn. The company owns about 45 hospitals in 18 states, including Russell County Medical Center in Lebanon.
While operating Greensville Memorial under the lease, Community Health Systems will invest in a new facility to replace the current hospital, which was built in 1960 and expanded several times over the years.
Ed Harrell, president of Greensville Memorial's board, says the hospital negotiated the sale with Community Health Systems because all but one other potential buyer "seemed to be more interested in our becoming a referral center than in helping us attract specialists and improve our physical plant." Community Health Systems and Greensville Memorial finalized the deal in March 1999.
Home Grown HMO Market
The total market penetration for HMOs in the Central Region is approximately 25 percent, with 31 percent for the commercial market, according to National Research Corporation's Healthcare Market Guide Study 1998. PPOs have approximately 33 percent of the total market and 40 percent of the commercial market.
Although the region has significant managed care penetration, it has not come in the form of large, national for-profit insurers. For example, QualChoice of Virginia—with more than 120,000 lives throughout the commonwealth—is the managed care leader in terms of covered lives in the Central Region. The University of Virginia and the University of Virginia Health Services Foundation created QualChoice in 1995 and co-own about 95 percent of its shares. Martha Jefferson Health Services owns the remaining QualChoice shares.
QualChoice enrollees typically give the plan a high satisfaction ranking, however, as a relative newcomer to the competitive managed care marketplace, QualChoice has yet to break even. In October 1998, the University's Board of Visitors resolved to invest as much as $7 million in additional operating capital to keep the plan healthy until strategies implemented by its new president and CEO, Marty D'Erasmo, have time to work.
Since joining QualChoice last October, D'Erasmo has raised premiums that were originally set to obtain market share to levels more in line with the costs of services. She has also tightened internal cost controls and renegotiated a number of vendor contracts. D'Erasmo now expects QualChoice to break even before the end of the year. "I have every reason to believe we're going to make it," she says.
For-profit Trigon Blue Cross Blue Shield is a contender for the Central Region's managed care business. As the commonwealth's largest managed care company, Trigon has a substantial number of covered lives in the Central Region in its HealthKeepers HMO and its KeyCare PPO.
"HealthKeepers has done extremely well, especially in urban areas, and our PPO products are very popular, too," notes Stacy Brinkley, Trigon's vice president of market and product strategy. "People are interested in choice. That's the key to making the product more palatable and people more willing to try it."
The expectation is that more managed care players will move into Virginia's Central Region. "It's going to get pretty interesting over the next four or five years," D'Erasmo says. She says she believes strongly in the principles underlying managed care and that these must include continuing collaboration.
"The only way managed care can ever work is if plans, physicians, consumers and employers recognize their common goals and needs and come together as a team," D'Erasmo says. "`Win-win' is a tired, overused phrase, but it's the only real pathway to success through our incredibly complex health care maze."
---
Let's Talk About Your Marketing Communications Goals and Challenges!
If you're looking for help with writing, graphic design and marketing communications and you like the portfolio samples you see here, contact me to schedule a telephone call to explore the possibilities of a collaboration. Of course, there is no cost or obligation for the call.